Karl Lagerfeld was eager to promote the idea that "taste has nothing to do with money" when he collaborated with H&M eight years ago. Lagerfeld, the head designer of arguably the most famous name in fashion, Chanel, believed inexpensive duds could co-exist with expensive clothing, and he set out to prove the former is just as fabulous as the latter.
When Lagerfeld recognized fast fashion retailer H&M's influence in the industry and collaborated with them, a new sartorial trend emerged. Mass distribution and exclusivity came together as limited edition collections were produced for retailers by designers. Luxury expanded its reach to mid-market consumers. It's a move that has forever changed the fashion industry.
"We believe in fashion and quality and that it should not be a question of price," says Emily Scarlett, public relations manager for H&M. "[Great clothing] should be available to everyone, and designers are taking that concept and delivering it straight to our customers."
At the heart of a fashion house -- like Chanel or Gucci -- is its exclusivity. It would seem that choosing a discount retailer like H&M and offering garments at drastically lower prices would compromise that ideal.
But a scene in downtown Toronto a couple months ago suggests otherwise.
On Feb. 23, the Target logo appeared on the side of its very first Canadian building. Inside that building were pieces from Target's latest designer diffusion line, Jason Wu for Target. Outside were 1,500 hopeful Torontonians waiting to purchase pieces from the collection.
"I got here just after 8:30 a.m.," said Diana Paskis, a PR student at Humber College in Toronto. "I have been waiting for a while for Target to get here. New retailers are always exciting, especially for this kind of thing."
This was the first time those seeking pieces from Target's designer lines did not have to cross the border to get them -- something many Torontonians, including Katherine Flemming have done in the past. She waited in line for Lanvin for H&M in 2010 at Yorkdale mall. For her, that experience was different than this Target one.
Check out some of the scenes from Target'sToronto Pop-Up Shop. Story continues below slideshow.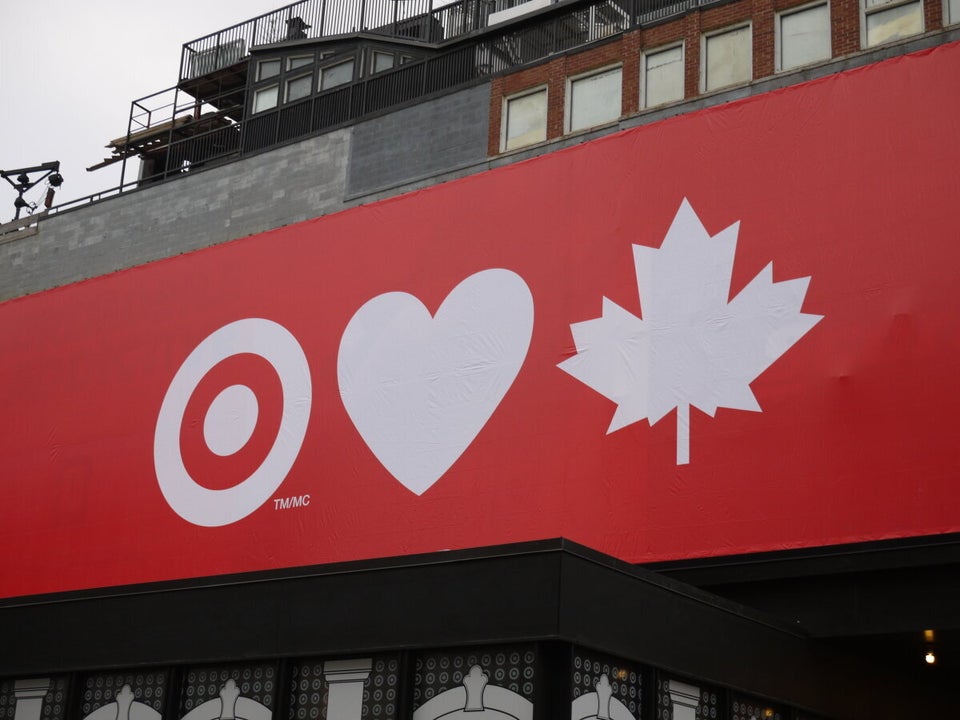 Target Canada: Scenes From The Toronto Pop-Up Shop
"[The Target pop-up] was much more satisfying than other experiences [I've had]," said Flemming. "It was much more civilized. Waking up in the middle of the night [to nab items from Jason Wu] was well worth it -- I had my pick of the entire stock. Lanvin for H&M was a gong show."
Target prides itself on its designer diffusion lines, which are watered-down versions of high-end designer works. H&M, which has had a Canadian presence for eight years, does the same. These lines provide the average consumer with something that was once only available to those who receive six-figure paycheques: authentic designer clothing. These pieces are not handmade in Italy or France, but they still carry the clout of a luxury brand name being stamped on the tag.
At H&M, these collaborative collections are available in about 200 stores worldwide, six of which are Canadian. They are partnerships between the designer and H&M's in-house designers. There's a constant dialogue between the groups to determine what will work for both brands, as well as what consumers will be receptive to. From there, a limited quantity of each of the line's pieces are made. They go on sale to a frenzy of shoppers and, once the pieces sell out, they're no longer available to customers.
H&M's collaboration with Lagerfeld in 2004 was only the beginning of the Swedish company's designer diffused collections. The fast fashion retailer has gone on to collaborate with the likes of Stella McCartney, Roberto Cavalli, Comme des Garcons and Jimmy Choo. Target jumped on H&Ms success by launching its Go International brand in 2005 (this brand is responsible for Target's designer collaborations, which include garments by Tara Jarmon, Proenza Schouler and Thakoon).
It's not difficult to understand why these discount designer lines are so successful, especially with the current economic climate. Consumers want luxury goods with a price tag that doesn't match -- which is something these lines provide.
The buzz surrounding the arrival of Target in Canada is heavily influenced by the availability of these coveted fashion house collections.
"We are all about offering affordable design, and making it accessible to everyone," says Danielle Gibson of Target Canada. "The Jason Wu collection launched in the U.S., and there were lots of fans. We thought it was a really good fit, because Wu is such a well-known, well-received designer." He's also, it should be noted, Canadian.
And launching with Wu in Canada seems to have been an excellent decision.
Outside the pop-up shop, the line began at 8 a.m.; doors opened at noon. By the time the sale ended at 5 p.m., all 2,500 Jason Wu for Target pieces were sold. The retailer brought in $60,000 -- all of which was donated to the United Way Toronto (a charitable move by Target to celebrate their Canadian launch).
The Target frenzy in Toronto, however, was not a first when it comes to Canadian craziness over designer diffusion lines. Last November, Versace for H&M debuted at two H&M stores in the Toronto -- each sale saw lineups that began more than 12 hours prior to the store opening. Shoppers spent a frosty winter night outside the Eaton Centre location, and rushed in at 7 a.m. to the barricaded section of the store that housed the Versace garments.
Torontonian Calvin Du, who waited in line for more than 13 hours, purchased 40 Versace for H&M pieces, which cost him about $3,000. In spite of his haul, Du did not find what he was expecting.
"I found some of it was made in China, and I was so sad. The quality here in the store is really different from the runway shows and photographs."
Which, in the end, didn't matter to Du: he planned to sell the majority of his finds online. And he's not the only person who had that plan.
Almost immediately after H&M started selling the Versace items in store, eBay was packed with the items shoppers spent hours waiting to purchase. The majority of these pieces were marked up, sometimes reaching three times their original ticketed price. Consumers went so far as to auction off the shopping bags H&M made for the event. A Lanvin for H&M paper bag recently sold on eBay for $30.
"eBay is a place for people to purchase unique or hard to find items and these capsule collections are made available to those who do not have access to H&M or Target," says Kevin Wolfley, the Community Relations Manager for eBay Canada. "It is an open market and this plays into the desirability and exclusivity of the clothing, raising the profile of the collection. Some people are paying with time and some are paying a premium price."
Torontonians aren't limited to selling these items online. Local retailers like Salem Moussallam are taking advantage of this demand. Moussallam owns a designer consignment store in downtown Toronto, where he sells previously-owned designer pieces at a fraction of their original price. H&M's designer collaborations align with his store's philosophy -- he always waits in line at these events so he can stock the collection for his customers.
"Versace for H&M was mind-boggling. People go gaga for this stuff," says Moussallam. "One lady could only find a size four dress and she was a size eight. She had to have it so bad, and was like, 'I need this dress. I'm going to lose weight for this dress.'"
Mousallam left Yorkdale Mall in Toronto that day with $10,000 worth of Versace for H&M merchandise, after spending over 12 hours camped out in line (and sleeping in a tent with one of his sales assistants). Moussallam obviously places importance on making these designer diffusion lines available to his customers. In the past year, he has stocked two collaborations: Lanvin for H&M and Versace for H&M. Unlike the other consignment items he sells, he does not reduce the price of items from these fast fashion lines. He sold an H&M designer diffused leather studded jacket for $650 -- it originally retailed for $300. He maintains this 250 per cent markup for all of the capsule collection pieces he stocks.
Surprisingly, when Target arrives on Canadian soil, Moussallam will not be stocking their designer created duds. Why? He feels the quality and exclusivity "are just not there."
Target Canada may deem this beneficial as, according to their spokesperson Lisa Gibson, the intention of these brands is to offer affordable, accessible fashion.
In the end, though, when these capsule collections are marked up online or in other retail locations, it defeats the goal of designer diffusion -- making luxury goods affordable. As consumers race to make eBay bids on designer garments, the exclusivity of the parent brand comes full circle. Suddenly, a piece that is mass-produced is now sought after; it's worth ends up being as much as a piece carefully crafted by a house's actual atelier.
And as Target sets its sights on Canada -- with its discount philosophy and designer partnerships in tow –- it's a trend that will likely continue to grow.
But is it worth it? Readers, let us know in the comments below, or Tweet us @HuffPostCaStyle.