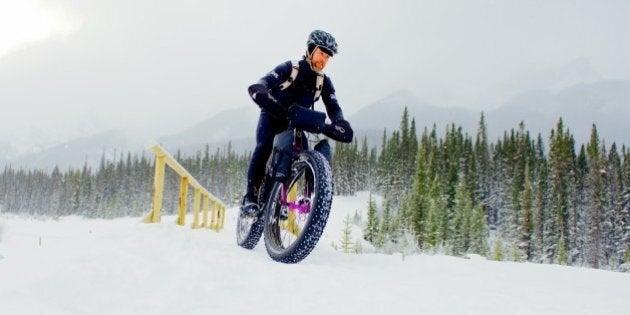 When the seasons change and the flakes start to fly, most people will put their bike into storage. But what if there were a way to combine your love of riding with your love of snow? With the fat bike, there is.
So what exactly is a fat bike? In essence, it's a mountain bike that has been built to accommodate extremely wide and knobby tires. By running the tires at a low pressure (think 5 – 10 psi), they provide a ride that floats over soft terrain like sand, mud, and snow. Once thought of as a novelty, fat bikes have taken off, with most major bike manufacturers competing head to head with small boutique builders for a growing segment of the two wheeled market.
If you don't have your own fat bike to bring to Alberta, many shops have rentals available. Rebound Cycle in Canmore and Smack Cycles in Bragg Creek both have fat bikes to rent, and many other shops may have one or two demo bikes to try out. Your best bet is to call or e-mail ahead to avoid disappointment. It's also a good idea to ask about local etiquette for fat bikes before hopping on and hitting the trails.
Thanks to the growing popularity of fat bikes, more and more recreation areas are setting aside space for riding. Canmore Nordic Centre is an excellent place to start, as they have dedicated fat bike routes through the park.
Elsewhere in the province, riders can get their turns in at the Bragg Creek Ski Trails within an hour of your plane landing in Calgary. All of the all-season and snowshoe trails are open to fat bikes, which provides ample opportunity to create a nearly endless variety of rides.
Riders from all over Alberta can check out the vibrant fat biking community on Google Plus, which is an excellent resource for up-to-date trail conditions, group rides, and gear recommendations. Rebound Cycle also runs group rides every Wednesday night from 6-9, so you'll never have to ride alone.
Now that you know about the what, the how, and the where, there's no better time to grab a fat bike and embrace winter riding. Just remember that with fat bikes, there's no such thing as an off-season.