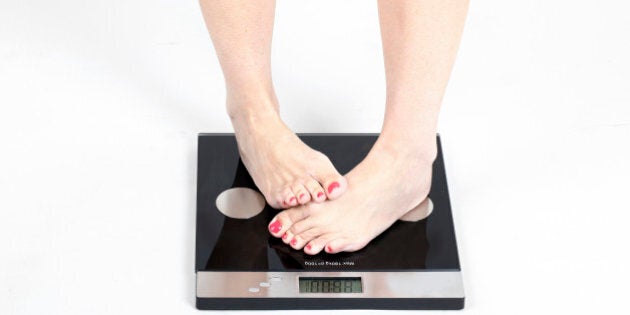 Should carrying extra weight be judged as a matter of personal failure? Considering the fact that two thirds of Americans are now diagnosed as overweight and one third as obese, it feels strange that there should be any prejudices against body fat.
Women in particular are routinely targeted for their appearances. Their "imperfect" bodies can keep them from advancing in their careers (if they can get lucrative jobs in the first place), from getting married or finding partners, even from receiving proper healthcare.
Obesity is now officially called a disease. But people who are afflicted by it are not treated like other patients who, for example, have cancer or heart disease. Presumably, they brought their ailments upon themselves -- by their self-indulging, undisciplined and irresponsible behavior. That makes them easy prey.
The reasons why body weight is so often looked upon as a moral rather than a health matter are complex and not easily understood.
In my own practice as a dietitian, the topic comes up frequently by clients who despair more over their looks than what is happening to them healthwise. In fact, many accept some of the discriminatory messages they receive in person or in the media as "truth."
Sadly, when it comes to weight issues, moral judgment is never far away. Not by accident, love for food, a.k.a. gluttony, is listed in Christian religious teaching as one of the seven cardinal sins.
With such labeling, eating behavior becomes a matter of right and wrong, of good and evil. And because weight control can take effort and struggle, those who fail at it or don't try hard enough are then viewed as losers or slackers who don't put in the necessary work, and should be called out for it.
In reality, there are countless causes for unhealthy weight gain. Lack of self-control is not the most common. Traumatic childhood experiences, poor self esteem and body image - resulting in all kinds of eating disorders, genetic predispositions, lack of access to quality food, among many other possibilities, are much more decisive factors in overeating.
The worldwide obesity crisis we are facing today is not the product of personal failure. Overweight people don't just overindulge because they cannot resist their urges. The undeniable fact is that much of our food supply -- especially the cheap, fast, and highly processed kind -- is harming us. Period.
Moreover, most consumers are basically illiterate when it comes to nutrition. Nobody teaches them how to eat right - not in schools, not at the workplace, or anywhere else, and certainly not in ways that are commonly understandable and actionable.
These are structural, not personal failures. Here is where the root of the 'evil' lies. As long as these issues are not addressed, no moralizing about weight has a place.
Follow HuffPost Canada Blogs on Facebook