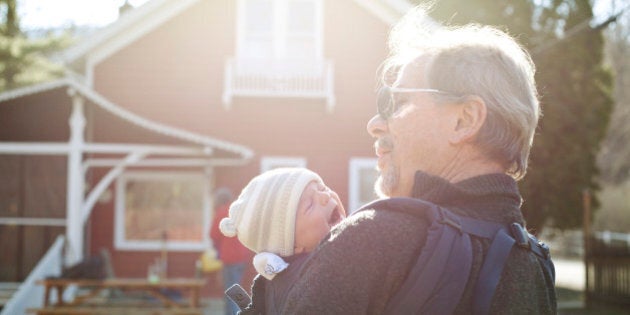 This article goes out to all the people missing dads this Father's Day. With greeting cards featuring tableaus of fishing, golfing and barbecuing with Dad, I can't help missing my father-in-law and feeling the void of his absence. I try to look back with fondness at all the great memories he made with my family, but the pain stings and I'm left feeling bitter that he was taken too soon. This Father's Day, let's take a moment to remember the dads who are still here in spirit.
I'll go first, and I welcome you to add your story below.
Val was a husband, father, grandfather and father-in-law who was taken from this world too soon by colorectal cancer. And what a unique personality my father-in-law was -- a Russian immigrant who called watermelon "waterlemon" (easy to mix up), he would have ridiculous mishaps befall him daily due to English being his second language, mishaps he would call "one in million."
This same man was known to carry infants in his arms for entire days on end to ward off acid reflux, push grandchildren in tiny doll strollers to amuse them and give these same kids "horsey rides" all day long. Oh, he also allowed the children to pull his earlobes, which was riotous for them and not as pleasant for him.
Was he a saint or a gift from the heavens, my father-in-law? In his absence, it still feels that way five years later.
Not a rich man in the least, Val offered gifts from the heart, such as hugs and kisses -- he would even mop our kitchen floor and clean child highchairs when we were busy with five children in diapers. Was he a saint or a gift from the heavens, my father-in-law? In his absence, it still feels that way five years later. He was a hard act to follow.
But Val had a family history of colorectal cancer on both sides of his family. Both his mom and dad had died of it, and yet he had never had a colonoscopy. When he visited the ER due to unexplained bleeding, it was discovered that he already had stage four colon cancer which had metastasized to his liver. The colon cancer had grown undetected for a full 30 years. They had to operate to remove the cancer from his colon and give him a liver resection.
Val was the healthiest sick person I ever knew. He would go running, participate in yoga classes and ride his bike back and forth to chemotherapy. He even took up a hobby: studying the French language. He dreamed to one day visit Québec with my mother-in-law when he got better. And during chemo, he surprisingly never lost his hair because it had been so thick and coarse, like a lion's mane. This was a strong and healthy man! This went on for two and a half years.
When chemo ceased to work for Val, the oncologist recommended an aggressive treatment of radiation therapy. Sadly, this treatment did not work for him and just sped up his demise. He was put into a palliative care hospital and looked like a prisoner of war: starved and emaciated. Val died soon after.
This Father's Day, I'm thinking of my wonderful father-in-law, Val, a man many of my children were sadly too young to remember. I'm thinking of his thick Russian accent, charisma, optimistic outlook on life, and his ability to be there when we needed him the most. To open a dialogue with our kids, we recently visited his graveside and discussed fond memories.
Who are you remembering on Father's Day this year and what is their story? Let's think of them now.
Follow HuffPost Canada Blogs on Facebook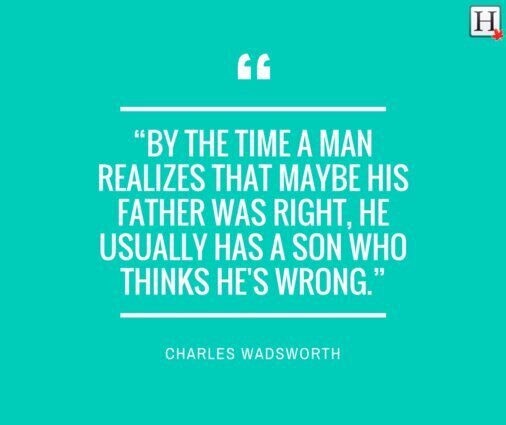 Inspiring Father's Day Quotes To Celebrate Dad