When was the last time you had upsquee? Salal berries? Sea rocket? We'd never even heard of these West Coast foods until we began our FEAST journey, and it was a strange thing to realize we could live within a landscape for years, and still not know all it can offer for dinner.
We began our FEAST journey by kayaking with West Coast Expeditions on Spring Island near Kyuquot, off the northwest coast of Vancouver Island. Each day, we paddled between remote blue waters and green islands, skimming forests of kelp and learning about the many ways it can be eaten. Some of the various types can be pickled, deep-fried, pan-fried, dried, and used in soups. Sometimes, we just plucked young bits from the water and chewed on them.
The islands also provided us with berries while we hiked, some of which we've never tried before. These included salmonberries, thimbleberries, salal berries (of especial importance to local First Nations' traditional diet) and our favourite - huckleberries. Weeks later, we picked more at our campsite on Haida Gwaii and added the tart little jewels to our morning oatmeal.
We were also introduced to sea rocket by James, West Coast Expeditions' chef, who picked some from the high tideline for us to try. It looks similar to arugula, but tasted strongly of wasabi.
Of course, we always knew there would be seafood, but neither of us had expected just how much we'd be treated to during our stay. Several days before we arrived, one of the guides caught a 60-lbs halibut from his kayak (yes, you read that right), and we also ate plenty of locally and sustainably-caught spot prawns, ling cod and salmon.
View the slideshow of images from Spring Island, B.C. Story continues below: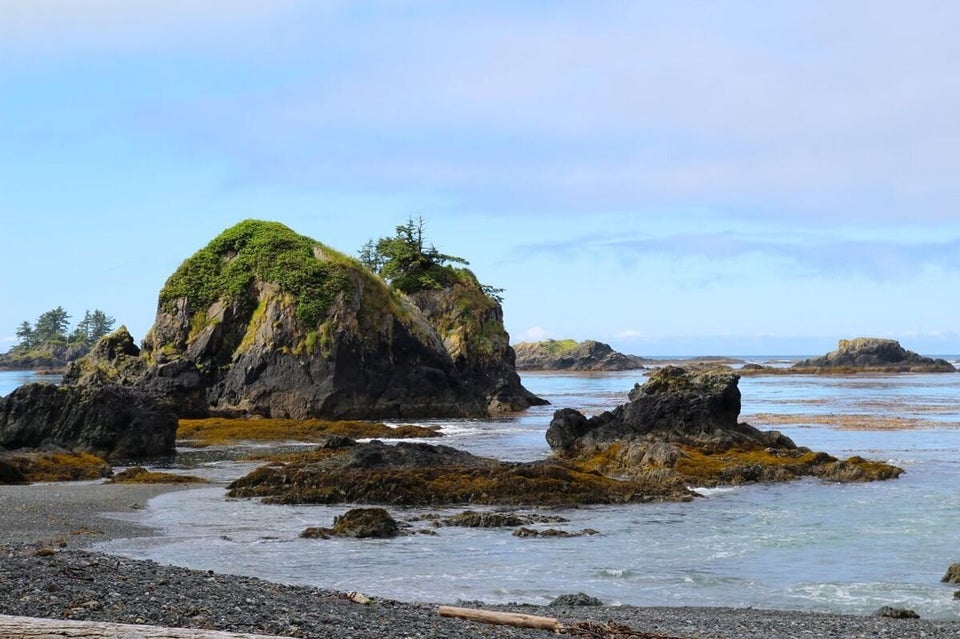 Spring Island B.C.
One highlight was the salmon meal cooked by our host Lana. Her family has been coming to Spring Island from nearby Kyuquot for 22 years to prepare traditional salmon feasts for the guests at West Coast Expeditions. Her mother cooked the dinners for 19 years and when her mother retired, Lana felt the feast was too important to give up, so she took over.
Lana arrived with her sister, her kids, and various friends, all of whom joined us for the meal. Its centrepiece was fire-roasted salmon, caught that day. Lana cooked them in a traditional way -- fileted and butterflied between cedar sticks, then propped up next to the maple wood fire.
While the fish cooked over the maple wood, we started to see the rest of dinner come together. The night began with "upsquee," a kind of cold smoked salmon similar to jerky. There are no hard and fast rules about how to make it, and everyone is Kyuquot has their own smokehouse preferences. Most are smoked using alderwood over a variable amount of days. The upsquee we tried has been smoked for three days and the end result was chewy and addictive.
The meal also included potatoes, salad, freshly caught crab, a halibut bake, homemade bannock and jam, and a salmon dip made from half-smoked, canned salmon mixed with cream cheese. We finished off with rhubarb crumble made by Serina, another West Coast Expeditions guides.
The salmon feast prepared for us by the Kyuquot community embodied so much of what we love about food. The meal both carries on a tradition, symbolizes the strength of the relationship between the Kyuquot First Nations and the folks at West Coast Expeditions, and brings about incredible conversation.
For us, this meal and our time on Spring Island meant all of these things above and proved to us that in writing about Canadian food, we'll continue to be introduced to foods we've never seen or heard of before.
If B.C. offered up so many new treats, what will the rest of the country hold?