HALIFAX — Abortion is back on the Conservatives' agenda.
Tory delegates will be asked Saturday to weigh in on whether the party should scrap wording in its policy book that says "a Conservative government would not support any legislation to regulate abortion."
Nearly 500 delegates packed a crowded room in at Halifax's Convention Centre, where the Tories are gathered for a policy convention this weekend to vote on the issue. After a heated debate, 82 per cent chose to have the approximately 3,000 members vote on the change.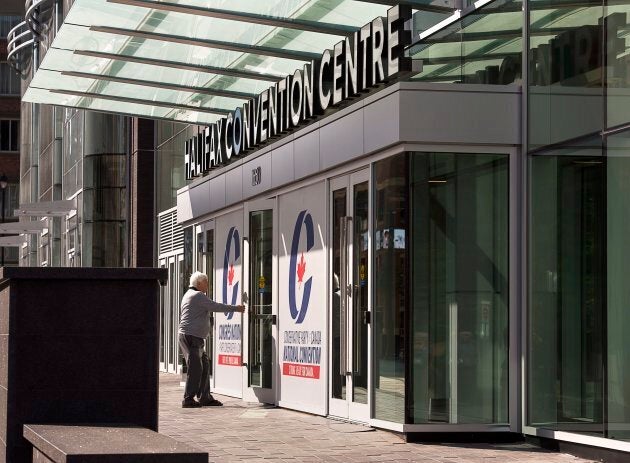 "Unlike the Liberals and the New Democrats, the Conservatives, we are a democratic party. We are an open party. We are a party of liberty," a delegate from Newfoundland and Labrador stated.
"This submission will make our party neutral on abortion. It will not tell our members of Parliament that they must oppose abortion legislation."
The resolution would free a new Conservative government to introduce anti-abortion legislation. A handful of delegates made reference to the fact that the party's current leader, Andrew Scheer, a known "pro-lifer," had pledged not to reopen the abortion debate.
But, as Saskatchewan MP Rosemarie Falk noted, Lisa Raitt, the party's deputy leader and convention emcee, had spoken about how the Tories are "the party of choice."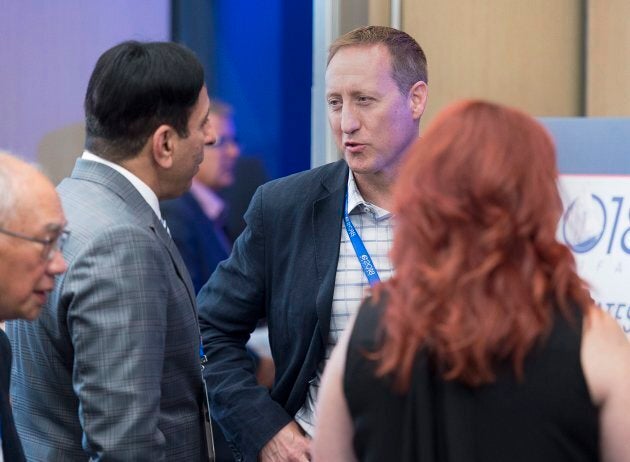 The current policy doesn't support choice or debate, she told delegates.
"There is people in the party, grassroots party, who do care about this and I think this needs to be deleted so we can have that conversation, that respectful conversation," Falk said.
The Tories are a big tent party, she said, and everyone should have a voice.
Nargis Kheraj, a delegate from New Brunswick, was vehemently opposed to the resolution.
"Our members of Parliament are there to represent us, not their social conscience," she said to boos from the crowd.
If Conservatives introduce this type of policy, she warned, they will only hurt themselves.
"You are going to punish women," she said.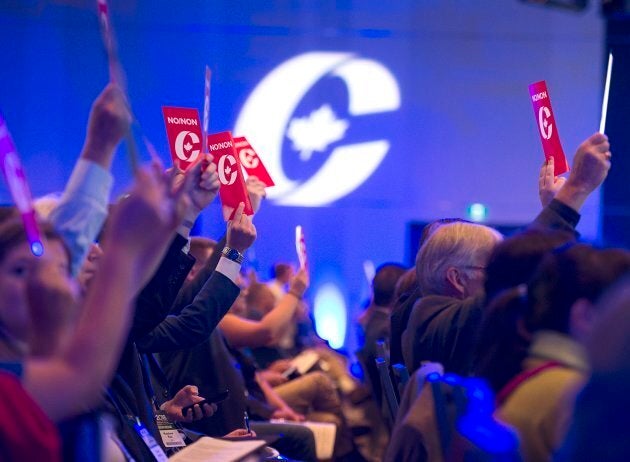 Women would go back to "backroom abortion," she said. "Women would take desperate measures to have abortions, because this used to happen before. It can happen again."
An Ontario delegate said he didn't think the resolution would "accomplish anything tangible and that it would draw a great deal of negative media scrutiny."
The party's anti-abortion movement organized and had more than a dozen life-related motions debated Friday.
One resolution that also engendered much debate was a call for legislation to ensure that any child born alive will receive the full benefits of life-saving care to make it possible for the child to survive.
A man from British Columbia who said he was a physician noted there are many scenarios where children at full term are born with defects that "are not compatible with long-term life."
Doctors could be criminally sanctioned if they did not do everything they could to extend a life by a few hours, he warned.
"We can't have that kind of ironclad straitjacket. They will be exploited by our enemies," he said.
Jack Fonseca, a delegate from Ontario who also works with Campaign Life Coalition, called the legislation a "no-brainer." He said he is concerned about what he called a growing situation that affects "children who survive an abortion."
"What is happening in these facilities, in hospitals and in abortion facilities, is that they are being left to die or killed," he claimed. "And that's barbaric and we must put a stop to that."
The Conservative delegates also supported efforts to have their party ban physician-assisted dying for minors and those suffering from psychological issues.
At the same time, they voted in favour of a motion calling on a new Conservative government to forbid the exposure of pornography to adults. The resolution said pornography is a public health risk and that the government should educate society on its harms.
They also voted to have the Tory policy book explicitly state that the party believes in freedom of speech and that "compelled speech is a form of violation of the Charter of Rights and Freedom."
Tory MP defends Liberal trans rights bill
In another room, Tory delegates rejected a proposal that said the party should support repealing "gender identity legislation which compels Canadians to utter made-up pronouns like 'ze' and 'zir.'"
The Liberal government's Bill C-16, which became law last year, does not compel Canadians to use such pronouns. The legislation makes it illegal to discriminate on the basis of gender identity and gender expression, extending protections to Canada's transgender community through the Criminal Code and Canadian Human Rights Act.
Ontario Tory MP Karen Vecchio said the proposal confuses what is being said on social media with what is actually in the legislation. She asked delegates to think of those transgendered people who have lost their jobs because of how they look.
"This is about compassion, this is about kindness, and this is not about what this entire legislation was about at all," Vecchio said, sparking applause. "So I will not support it."
Some of the other resolutions that will be further discussed Saturday were directed at veterans and soldiers — a key constituency the party plans to court during next year's election.
One proposal calls for a Conservative government to work toward spending at least two per cent of Canada's gross domestic product on national defence, a target pushed by both NATO and U.S. President Donald Trump.
Another said Tories would support retaining soldiers injured in the line of duty in the Canadian Armed Forces in new roles that don't depend on fitness for operational duty.
Unsurprisingly, some of the more popular proposals touched on policies the Tory caucus is already pushing, including renegotiating the Safe Third Country Agreement with the United States to stem the flow of asylum seekers, and recognizing Jerusalem as the capital of Israel.
One resolution that was much anticipated — ending supply management — was never discussed. Organizers placed it at the bottom of the pile and the workshop ran out of time, angering dozens of delegates, who were quick to voice their frustration.
"Where is the democracy?," one delegate shouted.
About 30 resolutions have been sent to the plenary session for a fuller discussion on Saturday afternoon. Anything that receives a majority vote there will form part of the Tories' official policy book
Popular in the Community