An orange surge that has vaulted the federal NDP from third place to a statistical dead-heat with Conservatives and Liberals is the real deal, new numbers suggest.
A poll from EKOS, released for iPolitics Friday, has Thomas Mulcair's party on top with 29.6 per cent support, followed by the Tories at 28.1 per cent, and Liberals at 26.1 per cent. Greens are at 7.6 per cent.
EKOS president Frank Graves has suggested the results should put to rest any doubts about NDP momentum since a poll from his firm last week first pointed to a three-way tie.
"We can ask how long it might last, but no one can dismiss these numbers as the result of a rogue poll or sampling error," he wrote in iPolitics. "It's real — get over it."
The numbers paint a picture that could worry Liberals who were once shown to be well ahead of rivals and are fighting to be seen as the main alternative to the governing Tories.
Just two months ago, EKOS had the Tories at 32.9 per cent, Liberals at 30.5 per cent and the NDP well back at 19.7 per cent.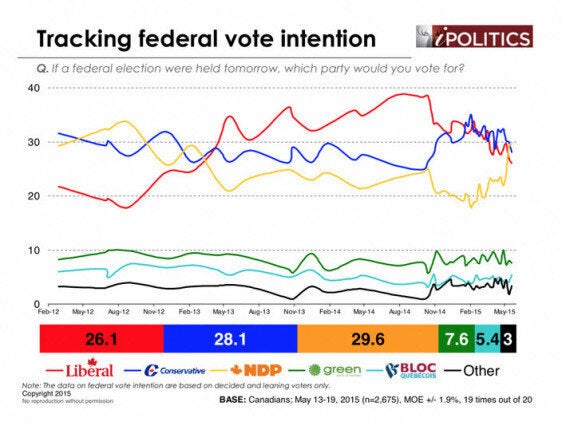 When it comes to voter intention by region, the new poll shows the NDP and Tories tied at 31 per cent in seat-rich Ontario, with the Liberals at 27 per cent.
Mulcair's team is also on top in battleground British Columbia at 32 per cent, followed by the Tories at 28 per cent and Liberals at 23 per cent. And in Quebec, the NDP is ahead at 29 per cent, followed by the Liberals at 26 per cent and Tories at 17 per cent.
The survey was conducted among 2,675 Canadians via interactive voice response between May 13 and 19. It is considered to have a margin of error of 1.9 percentage points, 19 times out of 20.
Quebec Survey Has More Good News For Mulcair
Another poll released Friday suggests the NDP lead in Quebec, home of the "orange wave" that swept the party to official opposition status in 2011, is even bigger than the one highlighted by EKOS.
According to a CROP survey published in La Presse, the NDP has jumped 11 percentage points in the province since last month.
CROP now has the party sitting at 42 per cent support in Quebec, followed by the Liberals at 25 per cent, Tories at 15 per cent, and Bloc Quebecois at 13 per cent.
The NDP, under late leader Jack Layton, won 59 Quebec seats in the last election with 43 per cent of the popular vote in the province.
Youri Rivest, vice president of CROP, told La Presse the NDP brand has been boosted by the Alberta provincial election earlier this month, in which the NDP under Rachel Notley captured a majority.
Rivest also said the numbers are a "disaster" for the Liberals, who dipped four percentage points since April. The poll suggests Justin Trudeau did not get a boost after unveiling his key economic plank, the so-called "fairness plan," earlier this month.
The survey was conducted via an online panel of 1,000 people between May 16 and 20. The results were weighted to reflect the population distribution in Quebec according to region, age, sex, education and mother tongue. A margin of error was not provided.
The next federal election is scheduled for Oct. 19.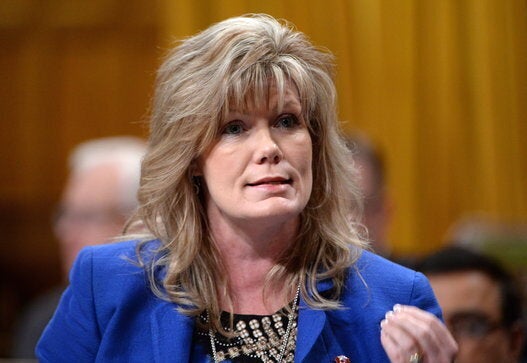 Notable MPs Who Aren't Running Again