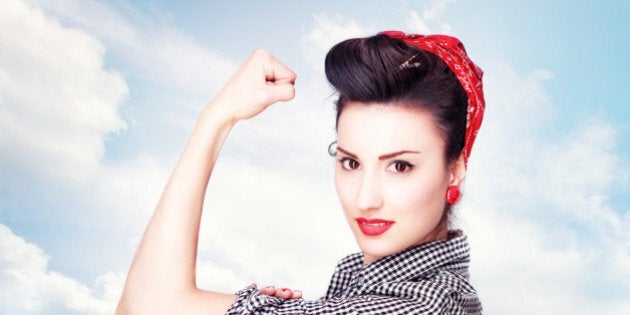 My love affair with the ancient Greek poet Sappho began before I hit puberty. It was pretty hardcore. I've had many girl crushes since. I fell hard for Sylvia, Frida, Georgia and Virginia; Naomi, Diana, Elisabeth, Margaret, Gloria, Adrienne and Brené. These great women -- some dead, others living -- had such a significant influence in my life that I often felt like I was standing on the shoulders of giants.
There have been more recent loves too. When I heard Sheryl Sandberg deliver the commencement address at Barnard College, I almost fell off my chair. Reading Lean In: Women, Work and the Will to Lead, where she argues that women's progress in the workplace has been stalled, spoke to me in a language I thought no one understood. Not everyone is as enamoured by Sandberg. Enter Rosa Brooks, who advocates for going in the opposite direction, literally and figuratively "reclining" or leaning out. "Ladies," she writes, "if we want to rule the world...we need to challenge the assumption that more is always better." As someone who is perpetually on overdrive, I hear the wisdom in Brooks' words.
But first, a disclaimer: I watched the commencement address Sandberg gave at Barnard nearly a dozen times, and almost ate her book. So when I read Rosa Brooks' article about Lean In in Foreign Policy, which was republished in the Washington Post partially entitled, "Why I hate Sheryl Sandberg," I felt almost like an irate lover. For the love of women, why would anyone give her article such a polemical, disrespectful title?
Do not get me wrong. I am not saying that we should agree on everything, nor that we should not debate, deliberate or wrestle -- all noble pursuits which will make us smarter, stronger and better. But aren't we doing a disservice to each other by writing inflammatory articles using our peers as punching bags? How is this a commendable call to arms? I was in academia. I understand that it can some times get intellectually rough, but I always opted to wear lace gloves when I "punched." While we are free to disagree with one another, can't we do so with reverence, respect and grace?
This article is a call for female solidarity. Call it girl power. Call it sisterhood. The point is that there is a wellspring of magic in women empowering other women. I would argue that it is one of the most transformational forces in the world for stretching our purpose on this planet. But I have witnessed that as powerful as we can be in uplifting each other, we are also a formidable force for bringing each other down.
Since I was a girl, I was always on the lookout for "boosters," women and girls who raise each other up. Discovering them was not easy, especially in high school, a place where girls are often under fire for being either "too pretty" or not "pretty enough." Where we are either "too smart" or "too stupid." A place where our sexuality becomes schoolyard fodder: are you a slut or a prude? Take your pick. Kids can be cruel; and the circus can scar you for life. The part that kills me is that this has been happening since at least the time of Mary Magdalene. But this will blow you away. We know this to be true: girls (and of course, boys) will insult and assault each other with reckless abandon. "She's a "butter face." Translation: Everything about her is pretty but her face. "She's good from far but far from good." Just plain mean.
I survived high school, landed in college in Montreal and ultimately graduate school in the USA. With Sandberg-like focus, I ended up in world-class scholar Elisabeth Schussler Fiorenza's classroom. ESF, as she was affectionally known, was my advisor. She was also considered the grandmother of feminist theology. From day one, I knew she would help me spread my wings intellectually. And she did. In the first few weeks of school, ESF assigned a group project. My classmates and I (including a firecracker and a gem) choose to focus on prostitution, both in the Bible and in contemporary society.
Standing in front of ESF and about 75 graduate students, I summoned my courage and said, "Hello, my name is Kim. Please turn to your neighbour and call them a whore." I suddenly understood the meaning of stone silence. They simply could not bring themselves to utter the word. But I, together with the firecracker (Leila) and the gem (Matthew) wanted to push their boundaries. So we pushed a little harder and I reiterated my injunction. Seventy-five deer in the headlights looked back at me. Until, for the sake of scholarship, they relented. The exercise was edgy but exhilarating. A few people cried. I think I was one of them.
We do not realize the power words carry, and then the realization is pulled out like a rug from under us. People try to shame women through their looks, their bodies and their sexuality. It's commonplace. Just ask my friend Kristel. Words are weapons. But they are also vessels of inspiration. We need to use them with care, empathy and purpose. I have felt (and it pains me to write this) that women are often the worst culprits: we are so hard on ourselves and each other; we can be so vicious and unrelenting; so catty and jealous. Ladies, we have to fess up.
I was lucky: my mother and father taught me to love myself and to live by a law of respect: to live and let live. They taught me that jealousy would never serve me. But that uplifting others -- women, men, the old and the young -- is the way to go; not because of any reward that will accrue, but because that is just the way to be in the world. Think of it as your duty for the privilege of being born.
I'm not trying to launch a new manifesto. My hope is for us to be more cognizant and sensitized at work, in school and in social situations, of the power we have to elevate each other to new heights, or to hurt, scar and burn with insults and animosity, which are generally grounded in insecurity. There is so much we can do in service to one another and the world when we rally together to celebrate our individual and collective greatness. So the next time you want to say something catty about another woman's appearance, bite your tongue and ask how you would feel in her shoes. The next time you want to slam a colleague at work for an out of the box idea, why not try to help her bring it to fruition instead?
I have been incredibly blessed to be touched by a confederacy of brilliant, caring, nourishing and inspiring women. I think of Nancy, Kelly, Becca, Frances, Bonnie, Lia, Nat, Shana, Tracey, Jessica, Kristel, Sally, Jordana, M-N, Tikka, Leanne, Charlene, Kathryn, Mariana, Randi, Eugenia, Jane and so many others -- there are really too many to mention -- how beautiful is that? But it's not a coincidence. You reap what you sow.
Back to the beginning: Sappho loved women. I do too, albeit in a more platonic way. Where we are united is in our shared reverence. Sappho, my main muse and I both celebrate the infinite capacity of every women to be an indomitable force to change the world. How much farther would we go if, instead of holding each other back or pushing one another down, we stood on each other's shoulders? Can you imagine the possibilities? My shoulders are strong, steady, ready and waiting. How about yours?