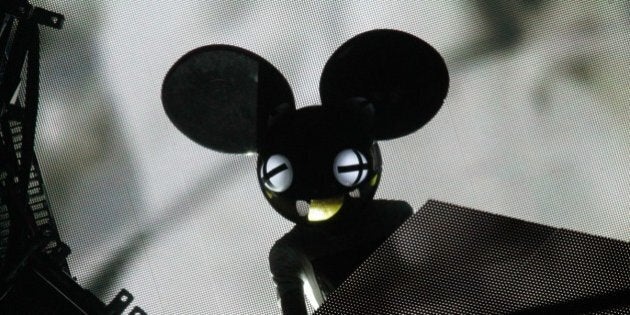 Quebec City's annual Festival D'ete is nearing its homestretch, but it's not going away without several more bangs if Daniel Lanois and Deadmau5 are measuring sticks. And while Deadmau5 continued issuing his pulsating beats early into Thursday morning on the Plains of Abraham and surrounding areas before tens of thousands (early estimates around 50,000), Lanois' coup on Wednesday evening was in creating just as much sound and power as his fellow countryman minus the mouse-head.
Earlier in the day Lanois told Huffington Post his group of Jim Wilson and Steve Nistor were treating the gig as an experiment of sorts for a forthcoming North American trek behind Lanois forthcoming studio album The End. Although Lanois certainly didn't ignore his French Canadian material as well as songs like "The Maker," he certainly didn't kowtow to the near capacity audience with a hits package.
Lanois opened with some haunting country-leaning and gospel-tinged instrumentals on pedal steel guitar which slowly but surely grew in intensity. Yet at times, particularly the concluding moments of his roughly 100-minute set, Lanois and his group were a wall of sound, jamming on songs as if Lanois and his pals was possessed by Crazy Horse.
Review continues after slideshow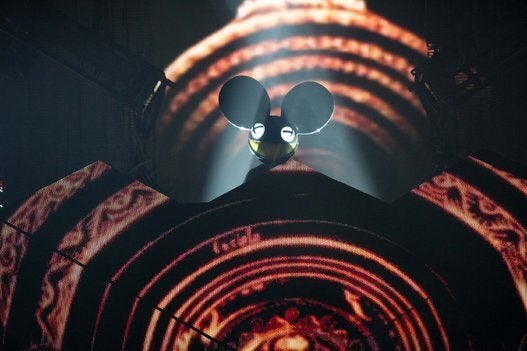 Toutes nos photos du FEQ 2014
Meanwhile to a far larger (and youthful) crowd and on a massive main stage, Deadmau5 took some time to warm up. In fact, it was only after removing his helmet briefly in the early minutes on his massive pyramid-esque riser to fix a problem with the sound that things came to life thanks to "Cthulhu Sleeps." The highly impressive light show and flashing images (strange comic book ads, bombs with the Deadmau5 logo on them among countless others) made it a spectacle to even the most apathetic towards EDM. Prior to Deadmau5, the Glitch Mob had the throngs bouncing including one man in a wheelchair held overhead by fans.
British folkie/rocker Jake Bugg endeared himself to most onlookers with a tight but punchy 20-song set. Bugg, who reportedly said he was not a huge fan of summer festivals in recent days, worked through most of his two albums with plenty of pop and polish. While holding "Lightning Bolt" for the closer, the musician had plenty of peaks thanks to "Taste It," "Storm Passes Away" and the trippy "Ballad Of Mr. Jones." Also impressive was Bugg confidently growing into a better than expected guitarist, trying a cover of Neil Young's "Hey Hey, My My (Into The Black)" on for size which got a strong response.
Finally, earlier in the evening genre-fusing ensemble Moriarty warmed the cozy crowd filling the Loto-Quebec stage. The band blended folk and roots with occasional jazz and soul, resembling some mash up of Gillian Welch fronting the Dap-Kings. "Candyman," "Buffalo Skinners" and "Little Sadie" were highlights.
Popular in the Community