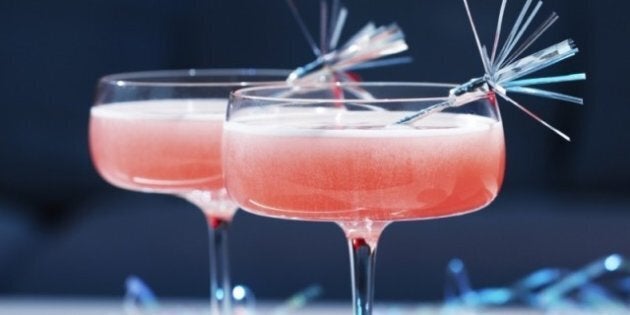 The barometer has dipped. Every morning we wake up to frost on the ground. And the leaves are finally changing colour. All can only mean one thing: fall is just around the corner.
This year, toast the season (responsibly, of course) and all of the wonderful things autumn has to offer -- Halloween, Thanksgiving, apple picking -- with one of these delightful and delicious cocktails!
A sippable way to enjoy one of autumn's top fruits; it's perfect as dessert!
1/2 oz. cinnamon simple syrup
To a highball glass filled with ice, add Canadian Whisky, cinnamon simple syrup and apple cider. Garnish drink with cinnamon stick. This cocktail can be served warm as well, just omit the ice and warm in a heat-resistant mug.
Bubbles Rosé Holiday Sparkler
Celebrate the holidays with friends and family and one of these sweet, sparkly bevies.
60 ml Rosé sparkling wine
15 ml elderflower liqueur
Soak sugar cube in orange bitters and place in bottom of glass. Add elderflower and cranberry and gently top with rosé sparkling wine. Garnish with rock sugar stir stick.
An orange and vanilla swirl that results in a delightful creamsicle flavour.
1 1/2 oz. orange vanilla vodka
Add ingredients to a shaker. Mix. Pour into a martini glass. Garnish with lemon.
A rich way to energize your taste buds when the temperature begins to drop.
2 oz. Irish cream liqueur
Swirl caramel around the inside of a martini glass and put to side. Pour Baileys Irish Cream with a hint of caramel, Ketel One Vodka, ice and espresso into a shaker and shake until very frothy. Strain into caramel swirled martini glass, making sure the foam is on top to make it looks like a cappuccino. (Tip: using a spoon while pouring helps keep the foam on top.)
Original Spiced Cinnamon Toast
Grab a blanket and cozy up to your coach with this heart-warming drink.
Rub rim of hurricane glass with half an orange and dip into cinnamon sugar to coat. Add rum and hot apple cider.
A simple sipper that will stimulate your appetite -- or that of your guests.
44 ml cognac (suggestion Hennessy V.S. as per the name)
Pour cognac into a highball, add cubed ice (fill the glass), top with ginger ale. Garnish with a lime wedge.