Full Figure Fashion Week 2016 (FFFWeek) and The Curvy Con brought curvy women from all walks of life to New York City for a week of events celebrating our curves. It was an incredible experience that truly highlighted the diversity of the body positive community.
The women walking the runways and attending the events varied in size, race, age, identity and everything in between. They showcased their unique styles at a range of events from the "Golden Confidence" pool party to the "Curves At Sea" all white cruise, the runway presentations and more.
Knowing how amazing each and every one of these women is makes it hard to imagine a world that told them that they are less than, because they may be more than. Fortunately for us, FFFWeek and The Curvy Con exist — to celebrate our size and the beauty that makes up our community.
Beyond the women in attendance, the brands and designers also showcased diversity. There were brands carrying sizes 12 and 14 (for the inbetweenies) to size 32, allowing all women the opportunity to shop. There were also collections for every budget, from fast fashion to high-end designer. As women who grew up in a world with limited selections, being in a room filled with so many beautiful choices was a dream come true.
One of the designers I had the honour of meeting during FFFWeek was Malorie Dunn, the incredible woman behind NYC-based brand, SmartGlamour. Dunn strives to create a place for all women by designing beautiful, affordable, ethical and customizable pieces for sizes XXS to 6X. She also uses models of "all shapes, sizes, ages, weights, heights, abilities and identities."
"When I'm on the subway, I look around and see people that are everything, and to me that is beauty," Dunn said. "And that's what I want my ads to look like — what you see when you look around the world."
Check out some of the highlights of the beautiful diversity that made up the wonderful FFFWeek events:
Quinn walked the Legends Runway.
Servance was the host of the FFFWeek Plus Size Prom.
Ujaque travelled from Puerto Rico to be with us.
Representing Fit For Me as a brand ambassadors.
Nicolette and Gabi were panelists at The Curvy Con. As part of the LGBT community and with news of Orlando, Nicolette offered to cover the costs of anyone in the LGBT community who could not afford to attend The Curvy Con.
Kristine killed it in body cons throughout the week as another Fit For Me brand ambassador.
Repping The 6ix at the Golden Confidence Pool Party.
Every woman, with no exceptions, deserves to feel comfortable in her own body, and to believe that the world is made just as much for her as the next person. That's why with "My Curves Have No Bounds," we're going to get real and talk about our bodies, what we put on them, and how we feel about everything in between. We want to break down the barriers and outdated notions that plus-size women encounter everyday. So check back every other week for more from "My Curves Have No Bounds," by Amanda Montgomery of Latest Wrinkle.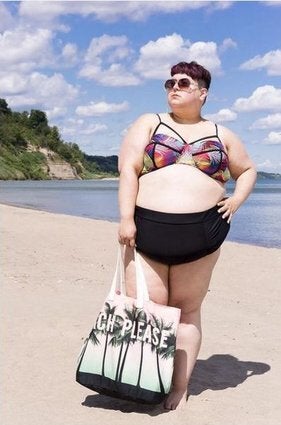 Body Positivity: 16 Inspiring Women Leading The Movement