Two Filipino-Canadians, Al Donato and Russell Sabio, open up about a packing tradition that connects them to home.
Growing up in a Filipino-Canadian household, buying canned luncheon meats in bulk signaled it was time to send a balikbayan box — a Filipino tradition of sending care packages.
Nearly one-metre tall, what stands out about the balikbayan box is its size. The cardboard cube came up to my mom's hip and loomed over me as a kid.
This is pretty much what my mom's shopping trips looks like. This typical balikbayan shopping haul is from Instagram user Samlanie.
When my mom immigrated to Canada, she picked up the practice from her fellow Overseas Filipino Workers (OFWs) working in department stores. Although she was a single working parent struggling to support her children, it was important to her that these boxes filled with Canadian bounty reached her faraway loved ones in time for gift-giving every December; loved ones who were living in worse conditions than our own.
Her selection of the True North's finest was varied. I remember squeezing essentials like toilet paper rolls and non-perishables between luxuries my family would rarely get for themselves, like Toblerone chocolate bars and Nike shoes. In spite of this, I don't remember ever feeling jealous of them. These gifts were what my mom called pasalubong: sacred souvenirs that, while cheap, were incredibly sentimental. I had never met the various titas, titos, or cousins who would open these boxes, but I daydreamed about their reactions as I wrapped rolls of tape around their soon-to-be presents.
My mom, a first-generation Canadian, was the box-packing leader in my household but what would happen if the tradition was left in my hands or the hands of other second-generation Canadians?
YouTuber and Filipino-Canadian Mikey Bustos with his balikbayan boxes. He released a Miley Cyrus "Wrecking Ball" parody video about the tradition in 2013 that has been viewed nearly 3 million times. Watch it here.
If it were up to me, I wouldn't send boxes full of luncheon meat to the Philippines because I wouldn't even know who to address the box to.
My story is different from Al's. We didn't send care packages to our family in the Philippines as often — in fact, I maybe participated in the tradition three times in my life. But each instance of box-packing wasn't anything like Christmas for me. Each trip to the grocery store, every packing session and every label-making night was met with preteen angst.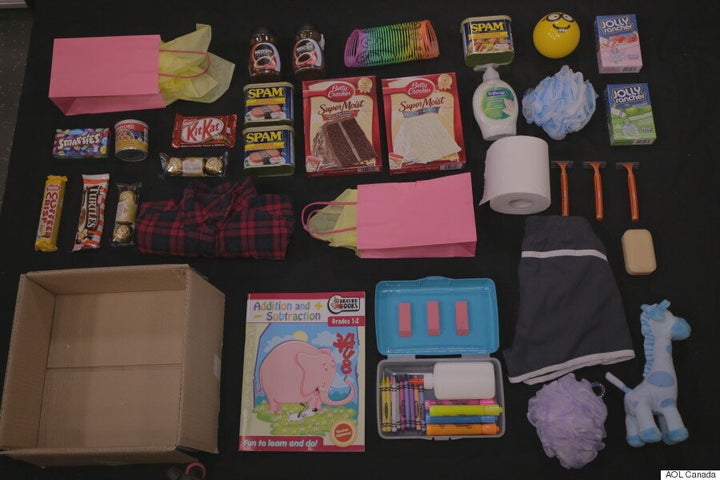 I remember one night feeling judged by a grocery store employee as I stood in line paying for peanut butter. The limit was six bottles per household and in an effort to get around the rules, I was given $20 and asked to line up at a separate aisle. The cashier knew I was breaking the rules for my mom — a woman who insisted we get crunchy peanut butter for every relative abroad.
I didn't understand the concept of this box and why we were even sending it. Still, l I was asked to participate in a tradition that seemed antiquated, unnecessary and far too expensive. My family probably spent up to $500 whenever they sent a balikbayan box.
For many families, the box represents the immigrant success story. Balikbayan means "someone who returns home," referring to those who leave the Philippines to work. Often sent by OFWs and their families, these boxes can weigh up to 150 lbs. and are filled with goods for basic survival and treats.
More than 400,000 boxes were sent to the Philippines in 2015, Yahoo reports. Shipping company Forex Toronto, a popular balikbayan sender, notes that the amount of boxes delivered is rising — currently, they send more than 800 boxes per week. Come Christmas season, which can start as early as September in the Philippines, this amount doubles.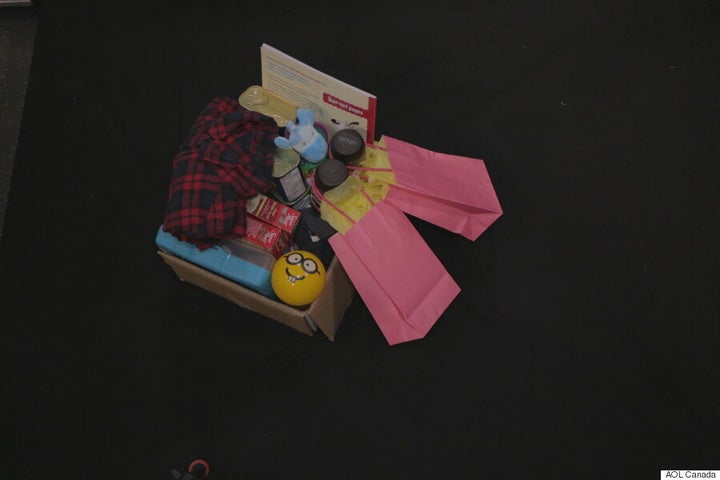 The tradition can be directly linked to the early '70s when the Balikbayan Program — a plan set by the Philippine government — came into effect. It was a response to the Labour Export Strategy, a "temporary solution" that sent workers abroad to help alleviate foreign debt by sending money back home.
Now a permanent fixture in Filipino immigrant culture, OFWs are protective of the tradition and their precious pasalubong. Balikbayan legislation was overturned last year thanks to outraged migrant workers. CNN reports that OFWs worldwide held a "No Remittance Day" in protest of Filipino customs staff from opening and inspecting their boxes.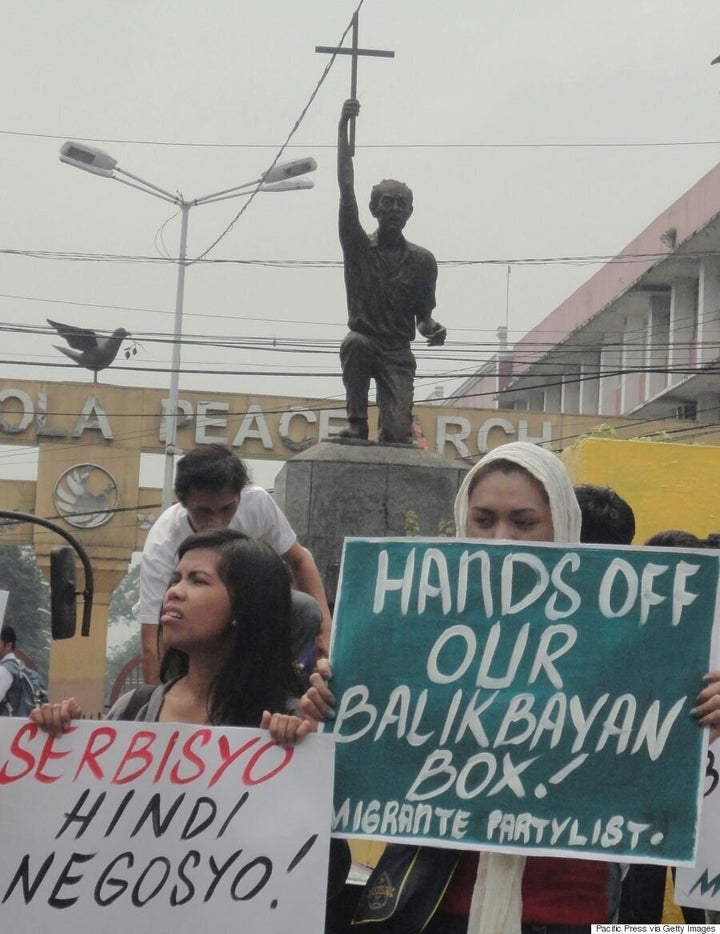 Conely de Leon, a PhD candidate at York University whose dissertation touches on the Balikbayan box phenomenon, says the tradition holds more meaning than meets the eye.
"The balikbayan box is not simply a way to transfer goods from one place to another," she says. "Being able to carry a new iPad with you around your community — that is symbol of success. It perpetuates the idea that your family overseas is doing really well financially. That's why they're able to afford these things that you now have access to."
On top of that, de Leon says the box symbolically represents a person's ties to home. Sending it tells a recipient that you care for them; that the familial bond is still important.
It's a tradition that's representative of Filipino culture.
It's hard to say where the balikbayan box goes from here. I don't think sending them will stop any time soon. While many are now filled with items that are easier and cheaper to find in a more modern Philippines, it's the Filipino value of sharing that's keeping the tradition alive.
Filipinos are known around the world as the nation's best export, supporting the country by working in hotels, hospitals, and homes. And while there's a lot to unpack with this diasporic identity — the effects of colonialism and the Philippines' economy, for starters — giving and hospitality is embedded in our psyche, from the food on our table to the jobs we take.
I respect these everyday heroes, I know them personally, and yet the tradition of sending balikbayan boxes is lost on me. It's not the way I find connection to my people and my homeland.
My only connection to the Philippines is a song I learned in Tagalog school about a house that grew a lot of vegetables, so my disinterest in sending balikbayan boxes really stems from my disconnected roots and my lack of understanding of what it means to be Filipino.
Looking forward, I'm trying to find my own culture. I'm looking to do my own balikbayan of sorts — a homecoming that's meaningful for me. And maybe that self-discovery and connection can fit in a balikbayan box, or maybe it can't.
"Giving and hospitality is embedded in our psyche, from the food on our table to the jobs we take."
For me, the balikbayan box remains an expression of first-generation affection. I can't help but feel like the box symbolizes all of the eternal homesickness immigrant Filipinos carry inside all the time. It's wrapped up in a physical package, one that tries to close the distance between themselves and their home.
The need to re-connect isn't always as urgent for me. But it's still there. I've never been to the Philippines, but I still catch myself calling it "back home." Every so often, I'll wonder which family member took an old shirt of mine, or if one of my cherished toys was passed onto a younger cousin. If I were to take charge in sending my family's balikbayan boxes, I'd need to unpack my roots.
For now, as long as my mom continues to do it, I'll still join her in grocery aisles; pushing a shopping cart full of canned luncheon love behind her.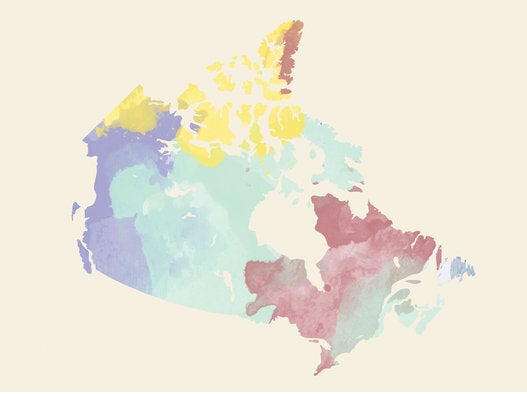 Who Are Second-Gen Canadians?