Thanks to our multicultural society, you may find yourself at a wedding this summer that celebrates in ways you aren't familiar with — and we're here to help. Each week, the HuffPost Canada Living team will take a look at a different culture's wedding and tell you about the customs, traditions and rules that go along with celebrating your friends' big days.
In the Filipino culture, weddings are seen as very festive events, where the entire community comes together in celebration of the couple.
"Marriage is a sacrament in the Catholic church (which is the Philippines' dominant religion), so it is serious business," says Janis Martinello, principal event planner at Brocade Events, who has worked on several Filipino weddings. "The couple has the support of an entire community of friends and family to help keep their marriage strong."
Family is of particular note at a Filipino wedding, with parents, grandparents, godparents and close friends given honours in the ceremony, resulting in wedding parties of between 30 to 50 people.
Primary sponsors are the couple's godparents, who stand with them during the ceremony, while secondary sponsors are those chosen for the coin, candle, and veil and cord portions of the ceremony out of respect. Each person who participates agrees to help guide and support the couple during their marriage.
And though the ceremony is serious, the reception is all about having fun, with drinks flowing, food everywhere and plenty of dances (even some that include pinning money on the couple and of course, line dancing). Go into it prepared to have a good time, says Martinello, and stay out all night.
"They are a blast!" she says.
Check out the 13 things you should know about attending a Filipino wedding: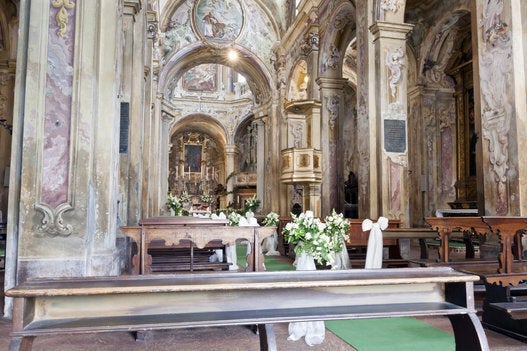 Guest Code: Filipino Weddings