 TV as we know it is dying, but most people don't perceive yet the dramatic change that is bubbling below the surface. In a stunning report released at CES, Accenture points to a wholesale collapse of traditional TV viewing. The study found that "the percentage of consumer watching broadcast or cable TV shows, movies, or videos on TV in a typical week plummeted from 71% in 2009 to 48% in 2011."
And what are we doing instead? We're streaming content on iPads (my wife watches as much content on her iPad as she does on TV), video enabled smart phones, and PCs. YouTube, Netflix, Hulu, iTunes -- and Apple's soon to be launched iTV are all changing the way we consume video content.
On Thursday, Robert Kyncl, YouTube's Vice President of Global Content Partnerships keynoted at the at 2012 Consumer Electronics Show in Las Vegas.
He argued that the world of TV is changing profoundly: "If YouTube's top five channels were stacked against cable channels, they would be in the top 20 in terms of viewership."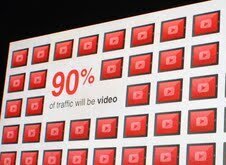 Kyncl pointed out that in 1980 there were only four TV channels and they had 100 per cent of the audience. But the emergence of cable TV in the 1980s dramatically changed the economics of distribution and resulted in hundreds of new channels. By 2010, 75 per cent of Americans viewing was spent watching cable channels, but only 25 per cent with the original four broadcast networks.
We are going through this same revolution again, with the Internet and streaming media once again dramatically reducing the cost of distribution. It eliminates barriers to entry, enabling content developers to narrow cast highly target audiences.
For instance, Kyncl cited the fact that today there are 17 million American yoga enthusiasts (and probably double that worldwide), yet there's not a single dedicated yoga channel on traditional TV. Kyncl predicted that within 12 month there will be a very successful YouTube Yoga channel.
And the facts speak for themselves: 350 million videos are shared on Twitter every year; and more than 100,000 person years worth of YouTube videos are watched on Facebook annually.
On hundred million iPads and tablets will be sold in 2012 according to the Consumer Electronics Association and analysts from GfK. Add that to the existing installed base of 70 million (15M in 2010 and 55M in 2011) -- all of them able to stream content; add to that the 600 million video enable smartphones that will sold in 2012 (add this to the 700 million smartphones sold in the last two years: 262M in 2010 & 435M in 2011); and finally add the 1.25 billion PCs worldwide. Presto, you're looking at more than 2 billion devices that can stream content.
I can hear what some people saying: What about quality? Do you agree that the quality of a cell phone conversation is less than a landline? Absolutely. Well, if the quality is poorer, why did 1.6 billion people buy mobile phones last year? (There are now 5.6 billion mobiles worldwide.)
We all think that quality matters, but convenience trumps quality. I was at an IDC breakfast briefing and the analyst presenting asked how many people had HD TVs in their homes. The majority did. And then she asked how many also subscribed to Netflix (only $8 a month for unlimited movies), again the majority did. Now this is a techie audience -- but the point is that Netflix isn't in HD but we're happy to watch it because it offers greater choice.
Kyncl in his keynote pointed to the fact that, "Today Netflix streams more than two billion hours of content a quarter and Hulu has 30 million unique users a month."
"Online video is on fire," said Kyncl -- the speed of its adoption is accelerating.
YouTube's audience of 800 million people watches over 3 billion hours of video a month - that's 30 minutes of video for every person on the planet.
Kyncl noted that by 2013, 90 per cent of Internet traffic will be video -- and so the rapid rise of internet video and streaming spells the slow death of TV as we know it now.
More later on the implications of this in future blogs . . . stay tuned
Popular in the Community