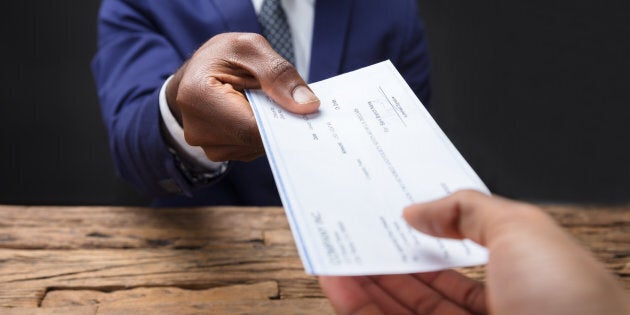 Canada's strong economy over the past year is doing little to help working Canadians out of their debt trap, according to a new study from the Canadian Payroll Association.
In a poll carried out for the group this summer, 44 per cent of respondents said it would be difficult to make ends meet if their paycheque was delayed by even a week.
That's actually a slightly lower share than in the previous several years, when 48 per cent, on average, said they would struggle with a one-week pay delay.
"The sense we got from the survey is that while Canadians are feeling a little better about their financial health, it's largely due to the job situation and a strong economy," association president Peter Tzanetakis told HuffPost Canada.
"The reality is that they continue to carry very high debt loads, and it's impacting their ability to save for a rainy day or even retirement."
Working Canadians' assessment of their economic conditions has improved over the past year, with 66 per cent saying they are better off financially today than a year ago. The share of people who say they spend their entire paycheque every pay period has shrunk, to 35 per cent from 40 per cent a year ago.
But this ability to save more money is not translating into less debt. Thirty-four per cent of respondents said they have more debt today than a year ago, up from 31 per cent. And fully 40 per cent say they feel overwhelmed by their debt, up from 35 per cent a year earlier. One in eight say they will never be debt-free.
"We would have hoped to see in the survey results that Canadians would do more to alleviate their debt and take control of their financial situation in strong economic times," Tzanetakis said. "Many Canadians seem to be complacent and are still not focused on the big picture."
Canadian household debt has risen over the past decade to among the highest levels of any developed economy, last year surpassing $1.70 of debt for every dollar of disposable income. The Bank of Canada has repeatedly said it sees excessive debt from high house prices as a key risk to the economy.
With the housing market slowing down and new regulations reducing the amount of mortgage Canadians can borrow, StatCan data shows Canadians' debt levels have stabilized, and even registered a decline, to $1.68 in debt for every dollar in disposable income.
Interestingly, the survey found that high household debt levels could have an impact on employers as well.
"The stress that they're feeling from managing their finances, their debt load, is spilling over into the workforce," Tzanetakis said. "Canadians are telling us it's impacting their overall work performance, and it could therefore impact work productivity."
Tzanetakis recommended that people with high levels of debt should "pay themselves first. ... Put part of your paycheque towards paying down debt or contributing to longer term savings."
"In the event of higher interest rates, a market downturn or other economic factors ... working Canadians would struggle to recover and could face severe implications."Canadian Payroll Association report
He suggested employees look into the automatic-deduction programs many employers offer, which would divert part of a paycheque to retirement or other savings.
But Tzanetakis noted the survey showed Canadians would prefer to beat their debt by getting higher wages than by saving more.
"It's really an issue of financial discipline, to balance these things," he said.
The survey, carried out by Framework Partners, polled 5,074 employed Canadians between June 22 and Aug. 1, 2018, and is consistent with a margin of error of 1.38 per cent, 19 times out of 20.
Popular in the Community