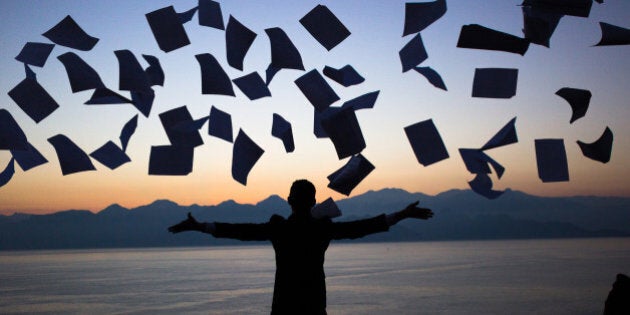 As the sunny days of summer have faded and the reality of back-to-work season for many employees is settling in, here's a troubling stat from a recent poll: a whopping two thirds (65 per cent) of employed Canadians are mentally ready to leave their current employer. Two thirds!
The days of loyal employees working away with one company until it's time to grab the pension and hit the golf course are long gone, as are the days of qualified candidates lining up for pretty much any position with a top company. In fact, 42 per cent of job offers are rejected, and 55 per cent of workers ages 18 to 34 plan to change jobs, start a business or return to school, according to a recent ADP Canada Sentiment Survey.
What's going on with the workforce? Great, well-paid jobs are sitting empty for months on end due to a lack of quality candidates, while at the same time, most of the workforce (let's stop blaming millennials) is restless.
Certainly, wanting more money will get people looking for greener pastures, but our research found that less stress, shorter commutes and generally a better quality of life are, together, as big a reason to make a change. Yet even companies with flex hours, yoga classes and telecommuting are finding it hard to get employees to really dig in. What's missing? Meaning.
Employees are increasingly seeking projects that are personally meaningful, have a positive impact on society and benefit others.
Today's workers are increasingly motivated by more than just a paycheque. According to a 2010 study by the University of Florida, the link between salary and job satisfaction is very weak. Instead, employees are increasingly seeking projects that are personally meaningful, have a positive impact on society and benefit others. Plus they want autonomy, balance with the rest of their lives and more choice about where and how they work. Enter technology.
Technology is a driving force behind this evolution of work, and touches not just where people work but how they collaborate, how they learn and what they do. Many employees can now work from anywhere in the world (often on mobile devices). They define their own schedules, and are choosing gigs and experiences over full-time employment. Workers no longer need a corporate infrastructure to get things done.
Training is shifting from dreary classrooms to on-demand online courses, from top institutions, many of them free. Automation is replacing people for repetitive work, and artificial intelligence is edging into the workplace. Once viewed as a threat to interpersonal connection, technology is now creating deeper personal connections across distance and time as social media becomes a massive business collaboration platform (and a place to post photos of your dog).
However, technology is only a catalyst for many of these changes. A new global study looking at these huge workforce shifts, identified freedom, knowledge, stability, self management and meaning as the human-centric needs in the new workplace.
It's important to understand that the need for meaning has not changed over the years - what's new is where our workforce looks for it.
While advancements in technology have enabled some workers to choose when, where and how they will work, these shifts have also made it easier for some to choose jobs that meet more than just financial needs. Organizations and HR departments that recognize this are now involving their employees more closely in defining and living the purpose of the organization. By recognizing that each employee makes a significant contribution to the company's success, employees feel their work is personally meaningful.
When I think of Canadian organizations that really understand this dynamic, two immediately come to mind. Years ago, 1-800-GOT-JUNK? Founder & CEO Brian Scudamore made the painful choice to let go bright people who didn't share company values. Now, he challenges his employees to get involved, to lead, take risks and make mistakes. Finding passion, inspiration and meaning in the junk removal business may sound like a tall order, but 1-800-GOT-JUNK? combines a focus on the higher purpose, a rigourous recruiting standard and great leadership to build a stable workforce that goes above and beyond for the company -- with smiles on their faces, even when hauling junk at 10 p.m.
YWCA Metro Vancouver attracts recruits using this powerful quote on its website: "Imagine waking up in the morning, ready to take on meaningful work for an organization that is changing lives across Metro Vancouver." Talk about recognizing a human need! Rather than strict, top-down management, the front-line staff at YWCA identify trends affecting clients, develop relevant programming and flag key advocacy issues. It's an empowering approach that gives new meaning to the phrase "on the job learning" and lets employees know their opinions count. Staff feel they have a direct hand in making a real difference.
It's important to understand that the need for meaning has not changed over the years -- what's new is where our workforce looks for it. Whereas millennials expect to find meaning at work (and pretty much everywhere else, too), older generations have tended to seek it outside of work through hobbies, volunteering, family and community.
Will the so-called Generation Z want meaning when it enters the workforce? Will the nature of meaningful work change over time? It's too soon to tell, but it seems clear that in our competitive labour market, employers should be looking past how they promote happiness and success and aim for something more.
Follow HuffPost Canada Blogs on Facebook