Finland's government is drawing up plans that will make the Nordic country the first in the world to offer all its citizens a basic income.
Details of the plan won't be released until November, 2016, but according to local news sources, the government will eliminate many other earnings-based social programs, such as unemployment insurance.
The plan would see Finnish citizens receive 800 euro (C$1,170 at current exchange rates) from the government each month. An initial pilot program would pay participants 550 euro (C$805).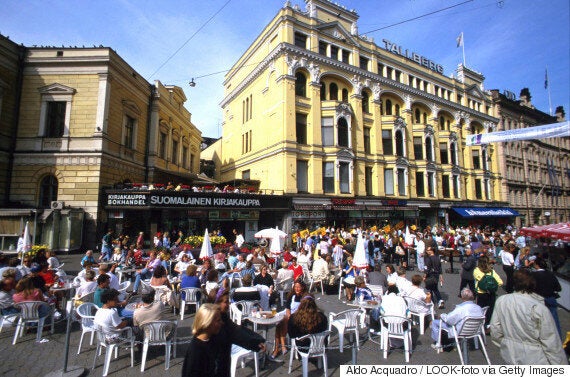 A shopping street in Helsinki, Finland.
Though critics of the basic income argue it would discourage people from working, the Finnish government believes the opposite — that a basic income could convince people to get off the jobless rolls and back into the workforce.
According to Quartz, Finland's jobless rate is at a 15-year high. Observers say it often doesn't make sense for someone to take a lower-paying job because the income would be offset by a loss of government benefits.
By giving everyone a basic income, the government hopes to convince some of those unemployed to take a lower-paying job they would otherwise not have taken.
Though the plan has yet to be drafted and passed into law, observers say it's likely to happen, given the support of the country's prime minister, Juha Sipila, and given that he has the support of most parties in Finland's parliament.
"For me, a basic income means simplifying the social security system," Sipila said, as quoted at the BBC.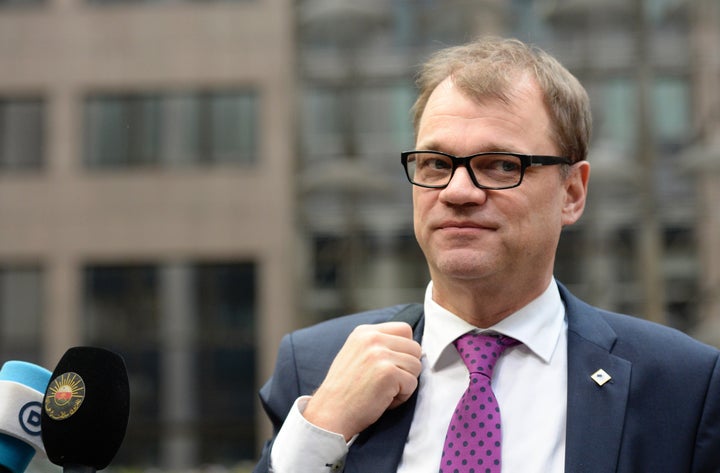 Finnish Prime Minister Juha Sipila says a basic income for everyone will simplify the social security system.
Supporters of the basic income — such as former Senator Hugh Segal — argue it could go a long way to eliminating poverty.
Segal points to the example of Ontario's Guaranteed Income Supplement for seniors — essentially a basic income for the retired. He says when it was introduced in the 1970s, it reduced the poverty rate among seniors to 3 per cent from 30 per cent.
Segal, along with others, also argues a basic income would be less "judgmental" than the current system of unemployment and welfare benefits, where government officials have to dig into people's lives to see whether they are deserving of help.
By giving everyone the same amount, government could shrink bureaucracy and lower costs, basic income backers say.
One of the few real-world experiments with a basic income took place in the 1970s, in Dauphin, Manitoba. Though research on that five-year experiment was buried long ago, academics have recently uncovered the results.
They found that Dauphin essentially eliminated poverty during its "mincome" experiment, as it was known. There was a drop in workforce participation, but that was largely due to people going back to school, an option they could now more easily afford.
Canada's governing Liberal Party has made running a basic income pilot project a part of its platform, but the recently elected government has not moved forward yet with any initiatives.
Switzerland, where many policy issues are decided by popular vote, is planning to hold a referendum on a basic income.
No date for the vote has been set yet. Current proposals would see Swiss residents receive a much more generous sum than is being considered in Finland — 2,500 Swiss francs per month, or C$3,370.
Popular in the Community