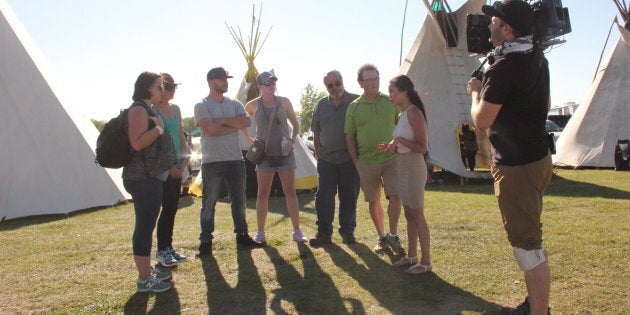 While many are applauding "First Contact" — a Canadian docu-series aimed at unpacking the hard-baked stereotypes and preconceived notions white Canadians hold about Indigenous people and communities — detractors say the show is problematic in its approach to reconciliation.
The three-part reality program, which aired last week on APTN (The Aboriginal Peoples Television Network) and began streaming online yesterday, features six participants on a 28-day journey across the country, as they're immersed in different First Nation communities.
They travel to a fly-in reservation in Northern Ontario, participate in a seal hunt in the Inuit community of Kimmirut, and head to a prison in Edmonton.
The show has been met with positive reviews from many praising "First Contact" for educating about the experiences of Indigenous peoples.
However, some Indigenous people are critical, saying the show's storylines are set up in a way that force Indigenous people to relive their traumas and validate their existence to white audiences.
"It is potentially traumatizing for Indigenous Peoples to see and hear these people spout their racist ideology, and it's problematic to show the lengths that have to be taken to change their minds. What message does it send?" asked David A. Robertson, a Cree author who lives in Winnipeg, as part of a lengthy Twitter thread.
"We have nothing to prove to you, and we owe you nothing. My dad has told me that in the larger scope of reconciliation, between Indigenous and settlers, it is the Indigenous Peoples who have NOTHING to reconcile," he continued.
Indigenous author Chelsea Vowel agreed, calling the Indigenous efforts to educate Canadians "exhausting and gruelling and thankless," and something that "prevents us from doing other things like oh, building up our communities and nations."
Ryan McMahon, an Anishinaabe comedian, offered up a suggestion for a different show that would relieve Indigenous people of any emotional labour.
An Australian show of the same name, on which the Canadian "First Contact" was based, received similar criticism when it aired in 2016.
Producers of the series acknowledge that the Indigenous people who took part went above and beyond what could reasonably expected of them — but said that many were glad for the opportunity to educate.
"We were turned down very little," producer Stephanie Scott, who is Anishinabe, told HuffPost Canada in an earlier interview. "Everyone that participated in the show wanted to share their stories, and hoped that someone would learn something from them."
"The people, the communities that participated deserve a huge amount of kudos for being willing to do it," said Jeff Newman, another producer.
"The first reaction to the idea is, 'Why would we want these people to come here?'" Newman continued. "But through the dialogue we had with the communities — they understood what our intentions were, and they were willing to make the leap with us."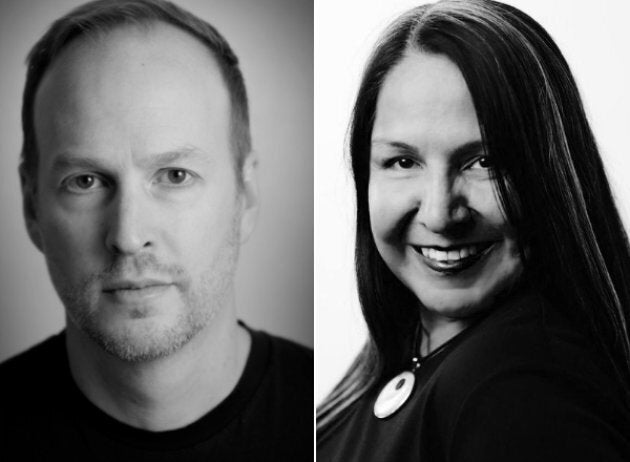 Jean La Rose, APTN's CEO, said his network considered these potential criticisms when "First Contact" was first pitched, but ultimately it came down to moving the needle forward on reconciliation.
"Reconciliation means, in many ways, for Canadians to get a better sense of who (Indigenous people) are, what they know about us, and what they think of our communities," he told HuffPost Canada in a phone interview.
"This is a way to get that conversation going, to get (Canadians) to stop and look at the facts," he continued.
"And if we don't start it, who will?"
La Rose says a second season of the show is already in the works, and will build upon the themes presented in season one.
Michael Redhead Champagne, a Winnipeg activist and member of the Shamattawa Cree Nation, who makes an appearance in the series' opening scene, addressed the criticisms in a note on Twitter.
"My own participation was not naive, and I understand and feel the frustration of needing to perform in front of outsiders just to prove the point that Indigenous people are people too," he wrote.
However, he says "First Contact" is important because "(it's a show) where Indigenous people and families are the heroes."
R.J. Jones, an Ontario advocate for the Two Spirit and LGBTQ+ Indigenous communities, said it would be useful to see a future follow-up on the series' participants.
With a file from Maija Kappler