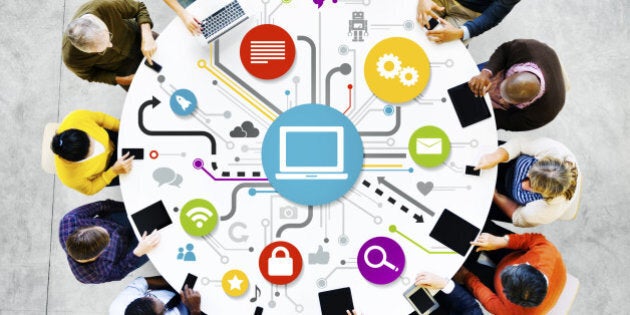 Not that many years ago the first time you were seen by other professionals and colleagues was in an interview, the first day on a new job or in a social setting. Now, it is common for people to Google you or find you on LinkedIn, Twitter, Instagram or Facebook to gather up a first impression of who you are before job interviews, as your new position in a company has been announced, or after hearing about you from someone.
Yes, before someone actually spends any face-to-face time with you they have made some kind of assumption and decision about who you are, what you do, and how you think.
People Google you to find out more about who they think you are. They search you out to make some kind of determination of who you are through your social and digital footprint. While this might not be fair, it's actually no different than the impression you leave someone with the first time they meet you in person. What you said, how you said it and how you looked while saying it, all comes into play in the interpersonal exchange. The key difference is that interpersonal exchange comes with verbal and non-verbal cues and you know the interaction is happening. The social media exchange is a one-way push of non-verbal cues -- good and not so good -- and you probably don't know who has seen what and who has decided what.
When others check out your online activity, they not only see your face and appearance, but they all read what you've done, what you have to say about you and what others say about you, and how you position yourself to others. By participating in LinkedIn, Facebook, Instagram and Twitter you make the decision to put yourself out there for the world to see - and read - and you're ready to give others their first impression that cannot be undone.
To make matters more complicated, there are also sites like Crystal Knows that takes your social media footprint and makes assumptions about who you are, how you are, and the best way to communicate to you, and sums it all up into one profile. Right or wrong, the aggregation of the information you put out there is analyzed and assumptions are made.
All isn't lost. While your footprint may be out there, you can do something to clean things up. It's time to do a social media audit of yourself.
Google: Yes, start with Google search of yourself. Clear out your entire history so it's a fresh search and see what comes up. See anything that you don't like or anything that surprises you? Don't forget to click the images, videos and news links to see if anything is there? So, what do you think of yourself so far?
Crystal Knows: Worth signing up just to see what the aggregator determined about you. How right or wrong is it?
LinkedIn: When anyone sees your profile photo on LinkedIn it should be a representation of who you are as a professional in your current role or how you want to be perceived for your future. It is the visual expression of your personal brand and how you want to be perceived by others. And, it should look like you! Is your LinkedIn free of errors? Is it up to date? Are you still linked to your old job as current and celebrating anniversaries for a company you haven't worked for in years? Are your comments, shares and updates fitting to where you are in your career and where you want to be? What do others say when you ask them about your LinkedIn? Have you asked for opinions?
Instagram: The photos and follows on your Instagram account are visual takes on your lifestyle, your cultural likes and dislikes, and a reflection of your personality through photos. When you take a look at your Instagram account, try to do it as a new visitor. What would you think of yourself if you were a potential employer? Does it add up to who you want to be and how you want to be perceived? What would mom or grandma say? Or how about your boss? Is it time to delete some of these photos or unfollow someone?
Twitter: Your brand and our brand essence put out into the world in 140 characters. Take a look at your Twitter account. To audit your Twitter account look at all of it: your photos, your followers, who you follow, what you have tweeted, retweeted, and liked. While you can't imagine anyone going through your account like a forensic accountant, that's just when a potential or current employer does just that. If there are items that don't align with how you want to be perceived - delete them.
Facebook: The same rules apply. When in doubt - make your account private. It's the only social media outlet that I personally would make private. Do people really need to know about me through my friends and family, or the Facebook games I play? It's not about hiding the truth, it's about deserving to have some parts of your life private and not connecting the personal with the business side.
You might have other social and digital spaces as well, and the same review process applies. Don't you deserve to be perceived positively and professionally?
Finally, decide how often you will audit your social media. Milestone events and activities like starting a job search or a new job with a new company might prompt you to take another look at your social media footprint. Commit to doing an audit at least once a year. People change and perspectives change.
Taking the time to go through the process to try to see what others, and how others, see you is a valuable exercise. Aren't you worth the worth the time and the energy to give the very best impression?
Judy Mann is a consultant | advisor with Judy Mann Communications. She offers internal and external Communications and PR services as well as specialized group and individual sessions and workshops on increasing interpersonal communications effectiveness, relationship building, public speaking and presentation style and delivery.http://judymanncommunications.com
Follow HuffPost Canada Blogs on Facebook