The Australian beauty, who underwent gender reassignment surgery in 2014, will front a campaign featuring the tagline "Be bold. Be unexpected." It is her first major campaign as a female model, and will see her star alongside actress Jamie Chung. The pair will also launch a series of limited-edition eyeshadow palettes as part of the collaboration.
An excited Pejić posted a sneak peek of the campaign video on her Instagram page, saying: "I can't even describe how incredible it feels to be the 1st transwoman to become a face of a major cosmetics brand @Makeupforeverofficial. Thank you guys for being so brave and giving me this opportunity and for spreading the message that beauty IS diversity and simply that being different is perfectly OK!"
She also told Women's Wear Daily (WWD): "Being bold is about freedom. It's hard for anyone to grow up and not be afraid of what others think. Makeup helps me express myself, and I've used it in varying ways throughout my life. I have strived to live life on my own terms, to never have to hide and to never have to feel shame about who I am. I can be proud of that and I'm equally proud to share that message through this Make Up For Ever campaign."
Pejić underwent surgery last year following a successful career as an androgynous male model which saw her walk the runway for designers including Jean Paul Gaultier and Marc Jacobs.
The daring project aims to both celebrate the transformative nature of cosmetics and champion self-expression. It will comprise a digital campaign and in-store events across Sephora US stores and will launch on July 16. The limited edition eyeshadow palettes will be available to purchase from Sephora.com for $48 each from July 19.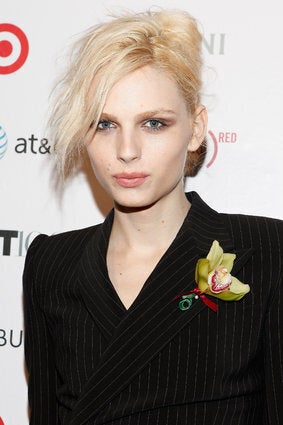 Andreja Pejic