If the First Nations Control of First Nations Education Act dies the ignoble death many are now expecting, aboriginal politics in this country will have truly passed a grim point of no return. Never before has a more progressive, generous piece of legislation faced more hysterical and irrational opposition from more brazenly dishonest, hypocritical, and grotesquely cynical critics. It's hard to imagine how First Nations policy can go anywhere remotely productive in the future if this sad episode is allowed to stand as precedent.
The act in question has been years in the making. Following Prime Minister Harper's historic apology for residential schools in 2008, his government embarked upon an exhaustive process of cross-Canadian consultations with the country's aboriginal communities in order to chart a course for a more productive future for First Nations' education.
As ably chronicled in the government's official timeline, this consultive process included signing memoranda of understandings with the leading First Nations' congresses of PEI, Alberta, Quebec, and Saskatchewan, striking a National Panel on First Nation Elementary and Secondary Education that visited "30 First Nation communities and 25 First Nation schools across all regions" and conducted "over 60 meetings with stakeholders" before authoring a 65-page report, and a secondlistening tour that conducted "eight face-to-face regional consultation sessions in eight major cities, and more than 30 video and teleconference sessions, as well as online consultation activities, including an online survey."
By fall of 2013, the aboriginal affairs ministry felt comfortable enough to write a broad draft of what would become the First Nations Education Act, which was then shared with "600 Chiefs and Band Councils across the country," as well as the Assembly of First Nations. Like a union boss offering a perfunctory rejection of an employer's opening bid, the Assembly responded by coldly passing a list of five "conditions" needed to be met by final legislation, which then triggered several intense days of what the CBC calls "backroom horse-trading," between Harper and Assembly chair Shawn Atleo.
It is exceedingly difficult to find much fault with the act, particularly if one views it for what it is -- a negotiated deal. It grants aboriginal-run reserve schools over a billion dollars in federal cash over the course of the next three years -- with funding then increasing at an annual rate of 4.5 per cent every subsequent year -- plus an additional $500 million over seven years for infrastructure improvements in particular.
In return, aboriginal schools agree to award diplomas, adopt a "core curriculum that meets or exceeds provincial standards" (without undermining the need for "language and culture" teaching) and only hire teachers that have received some sort of professional accreditation by either a provincial or aboriginal school board.
It defies logic to believe aboriginal students would not benefit from more money, better teachers, and a standards-driven educational regime that ensures their time in elementary and secondary school will be recognized as legitimate and valuable by employers, universities, and indeed, society at large. Countless studies have found that completing a full K through 12 education is the single biggest determent of success or failure in later life, and the single variable in which the gap between Canada's aboriginal and non-aboriginal population is widest.
Yet it's becoming increasingly clear that a growing faction of what Frances Widdowson and Albert Howard so accurately dubbed Canada's "aboriginal industry" -- the network of career politicians, lawyers, bureaucrats, and all manner of self-appointed activists operating under the broad mandate of "aboriginal interests" -- value practical improvements to the lives of native youth a great deal less than dogmatic adherence to some fantastical, idealized, and utterly impossible conception of how aboriginal-Canadian diplomacy is supposed to work.
Reduced to its core, this philosophy basically states that aboriginal governments have a right to unlimited money from Ottawa with zero strings attached. Chiefs and councils should be allowed to spend millions of dollars in transfer payments from Canadian taxpayers in any fashion they please, and if the feds have the gall to ask anything in return, educational standards, audited financial statements, adherence to human rights laws, etc, then that's "colonialism," "paternalism," and "assimilation."
Such extremism seems to lurk just beneath the growing chorus of claims that the Harper government did not appropriately "consult" First Nations before writing an education bill for them. Considering Ottawa's unprecedented cross-country tour of hearings and meetings, such claims make no sense, unless one interprets the phrase "consultation" in a fashion no normal human ever would: not a collaborative exchange of ideas between two equal parties, but rather a single party's unequivocal right to impose its demands on the other.
In the months following the education act's debut, demagogues like noted media darling and Native rights absolutist Pamela Palmater and Manitoba's politically opportunistic head chief Derek Nepinak worked tirelessly to push a storyline that the most collaborative piece of aboriginal legislation in Canadian history was actually something hideous and oppressive. It was a completely disingenuous narrative, yet one that gained considerable traction with the culture of paranoia and conspiracy theories that defines much of the aboriginal "grassroots" these days. It culminated in Chief Atleo's sad resignation last week -- which was good news for those who have always viewed the man as a traitorous sell-out for his willingness to give and take.
Not for the first time, Canada's aboriginal industry is choosing to sabotage the good in the pursuit of the perfect. And the "perfect" they're seeking is nuts.
In the aftermath of Chief Atleo's resignation, the Harper government declared their First Nations Education Act "on hold" barring further developments.
Considering the enormity of the stakes, they must not allow it to be held hostage.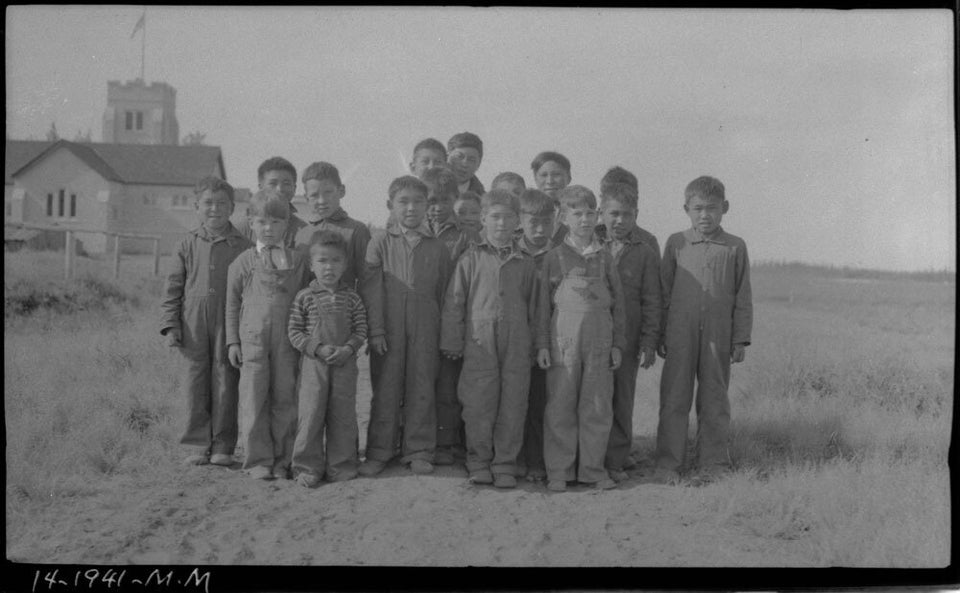 Residential Schools: A Photo History