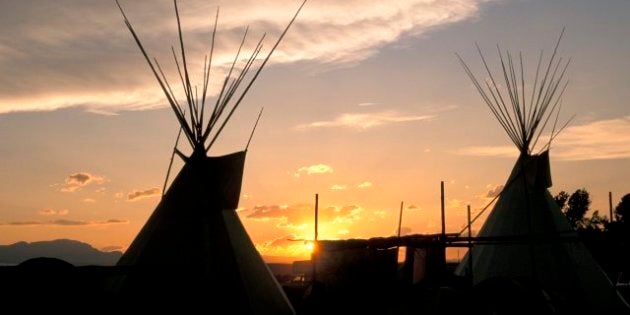 As transparency and accountability in First Nations have taken centre stage in the Canadian public eye, many politicians and decision makers on both sides are still grasping at age-old arguments over treaties and land claims. The question is, what do we do in the here and now?
First Nations, like other Canadians, do not like being dictated to on how to run their governments or their daily lives. The Idle No More protests have shown that First Nations are opposed to the paternalistic, top-down approach used by Canadian governments historically. What would the future look like if someone were to hit the "reset" button on the Crown-First Nations relationship and just start over?
The first thing to go would be the ethnocentric relationship that has made many First Nations "wards of the state," allowing natives and the Crown to stand on equal ground. That would mean that First Nations would be able to manage their affairs in much the same way that all other levels of government in Canada have done since confederation. This would include the ability to access capital at wholesale rates in order to finance major infrastructure projects. How do those non-aboriginal governments do it? They issue bonds. Could there ever be a First Nations bond issued?
It took some brave and forward thinking First Nations a decade to have the First Nations Fiscal and Statistical Management Act, 2006 passed into legislation. This First Nations-led initiative is not a mandatory piece of legislation; it is an option for those First Nations governments that have developed their administration to the level where investors can be confident that they stand upon solid ground. It created three institutions that promote First Nations transparency and accountability across Canada.
The First Nations Financial Management Board assesses and develops financial administration under internationally recognized Committee of Sponsoring Organizations of the Treadway Commission (COSO) standards. COSO is a joint initiative of five private-sector organizations dedicated to providing thought leadership through the development of frameworks and guidance on enterprise risk management, internal control, and fraud deterrence.
The First Nations Tax Commission assists those First Nations that lease portions of their lands, including urban reserves, for non-native residential development and which opt to utilize property taxation of non-band members to raise revenue. They are mandated to ensure that the First Nation's tax system is administratively efficient, harmonized, improves economic growth, and is responsive to non-aboriginal on-reserve taxpayers.
The First Nations Finance Authority is the body that accesses the capital markets through debenture financing. It is mandated to provide low-rate loans, investment options, and capital planning advice to First Nation governments.
These organizations, working in harmony, will allow the first ever, First Nations bond to be issued. While the other organizations are governed by qualified appointees, the FNFA is governed by the First Nation communities that join as Borrowing Members. Since the FNFA is a non-profit organization acting on behalf of its members, there is no mark-up on the interest rates for loans. This means that member First Nations can borrow millions of dollars, pay it back over up to 30-year terms and pay the same interest rates available to municipal governments, currently starting as low as 2.5 per cent.
This is a real game changer for First Nations that have historically only been able to borrow at retail rates from banks. Historically, they were only able to borrow over five to eight years and pay "prime-plus" interest rates. They also had to agree to various liens against band-owned assets and future revenues.
A good example of how this can change a community is in Membertou First Nation in Nova Scotia. Membertou was the recipient of the inaugural FNFA loan and used it to refinance their existing bank loans. The First Nation is now saving $144,000 every month on what they used to pay for other loans. Those savings have been reinvested into the economy and Membertou not only has one of the lowest on-reserve unemployment rates in Canada, the First Nation is now one of the primary employers for the neighbouring municipality.
The FNFA pools all the borrowing requests of its member First Nations into a debenture. The FNFA bond to be issued in the fall of 2013 will raise an estimated $100 million for on-reserve infrastructure. As more and more First Nations join, the future of First Nations finance and governance looks happy, healthy, and prosperous for First Nations. The question then will be, are Canadians ready?