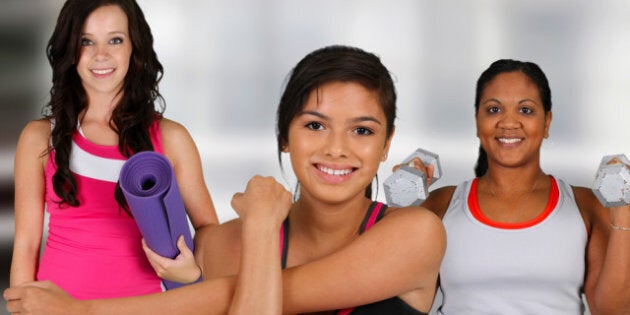 It's time to put away the fancy workout gear and bring out the towel and mat.
Fitness experts predict 2013 is all about getting back to the basics, making fitness more convenient, and sticking to the trends people already love.
Zapata says 2012 was popular for programs like CrossFit (a combination of strength and conditioning exercises), ViPR (traditional strength training while holding a weighted tube) and even pilates.
Some habits, like finding the cheapest and fastest way to work out, won't change as we head towards a new year. People are more likely to join classes, find ways to split trainer costs and look for free ways to track their goals.
"We are still seeing people being frugal about their money and so group classes, for example, continue to boom," she tells The Huffington Post.
But some trends just didn't pan out this past year. Classes were too specific, Zapata says, like BarreWorks (which is growing in popularity) was only popular for women, and other dance-based classes that were knock-off versions of Zumba didn't always appeal to mass audiences.
And while working out at home (you know, while you catch up on all your shows) sounds ideal, Zapata says it can be distracting and not motivational. Brad Taylor, a fitness trainer and owner of Fit Living in Regina, Sask., says people often invest money into home gyms that never get used.
"People will see better results and will be more consistent if they make time to go to a gym," he tells The Huffington Post Canada.
So when the new year does roll around, remember to go at your own pace, find a workout buddy and don't be afraid to try something new.
"I always recommend people to experiment. You have to figure out what you want and there's no 'one size fits all' approach in fitness," Zapata says.
LOOK: 10 fitness trends experts forecast for 2013: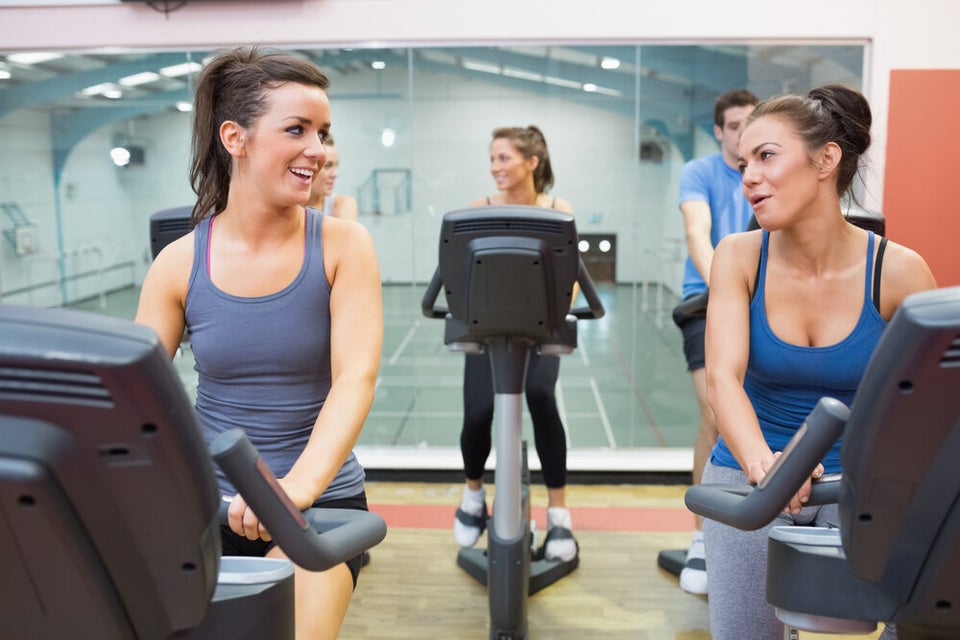 Spoga? Not really, but combination classes are one trend to look out for in 2013, according to personal fitness trainer Jessica Zapata of Edmonton, Alta. Zapata says people who love yoga and spinning, for example, can incorporate both types of exercises in one — something she has already seen at her own gym with a class called 'Spinyasa Yoga.' "Other popular ones are spinning class and pilates, those are wait-listed every week," she says.
Get ready to sweat! While already on the radar for the past few years, hot yoga will continue to soar in popularity next year. Composed of yoga positions performed in hot or humid conditions, for 2013, the experts at GoodLife Fitness say this kind of yoga, along with more accessible types, will allow consumers to both exercise and be zen with their minds, bodies and spirits.
Demographic-Specific Programming:
Think of it like one-on-one training with five other people. Zapata says small group training (with an average class of six people) will also be popular in 2013, as it will let fitness lovers focus on their individual strengths and goals, while being in a class with others to support them.
Sometimes, you only have 30 minutes to spare. In 2013 (and every year, we would argue) people are looking for the most effective and speedy workout, according to GoodLife fitness experts. Classes like CXWORX, for example, can burn up to 230 calories in 30 minutes, and are being offered at all sorts of gyms. Focusing on the core, as well as the butt, these workouts are meant to hit as much as possible in a minimal amount of time.
Your fitness goals will follow your every step in 2013 — at least if you want them to. Experts at GoodLife predict there will be more apps, computer programs and websites in 2013 that will help both beginners and fitness professionals track their progress levels. For example, Adidas's miCoach collects cardio movement data and builds targeted training programs for users.
Zapata also says that 2013 will have people going back to the basics. So yes, those sit-ups, push-ups and jumping jacks you hated in gym class will be showing up at your gym more often. "It's not just going to be about the trends. People want variety and they want results," she says.
It's time for Atkins and the Dukan Diet to say goodbye for good. In 2013, people will more likely stick to healthier eating habits than relying on fad diets, says Brad Taylor, fitness trainer and owner of Fit Living in Regina, Sask. "People are beginning to see that dieting doesn't work and it takes a lifestyle change to get results."