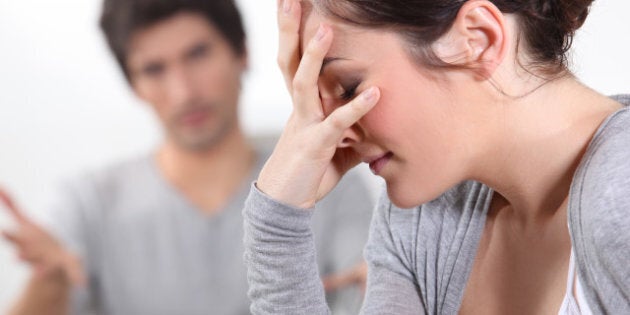 Make no mistake; divorce is upper case Emotional. When I decided to leave my marriage, I could not imagine how I would ever say the "d" word to my children or spell out how their lives would change. While I accepted whole-heartedly that my priority was to put my children's best interests first, I was also painfully aware of how my world was uncoupling and changing. Even though almost 40 per cent of marriages end in divorce, I felt little comfort from a statistic.
At first, I felt very overwhelmed most days. I vividly recall many dreams of moving through scary-divorce-land bogged down by a big bad trunk of fear, anxiety, guilt and anger. I knew I had to unload the trunk to get anywhere but I did not want to "deal." And, who could even think of dating. But the truth is, that while I knew it was important to put my children's best interests first, I also knew that it was important to get my own life on track if I was going to be a good parent and role model.
As I began to rebuild my life post-split I quickly realized I had choices -- I could choose to be a victim, or I could choose to move on, and it was up to me to build a good life, a happy and fulfilling life. Yes, the future was fraught with uncertainty but I reframed that thought and looked at what I could do to make life better, happier and brighter. The life I've now created is beyond my wildest dreams. If anyone would have told me in the darkest of my emotional days that I would be a divorce coach, a best selling Canadian author, a keynote speaker at The Divorce Party -- and so much more, I would have told them they were dreaming. But, by opening myself up to new experiences and being open minded, I learned that divorce is rich in opportunity to learn and grown from -- and grow I did.
I'm extremely fortunate. Not only do I have three amazing children and an extremely supportive family, but also an incredible group of dynamic friends. I certainly didn't have such a rich life when I separated. I gained it through a lot of hard work and a desire to be content and happy.
Thinking back to when I began my post-divorce journey, dating and the prospect of a great new relationship were inconceivable concepts. Luckily, I was wrong! While I'm not a dating rules kind of gal, there are definitely lessons I learned along the way that helped me overcome the barriers, which made the inconceivable achievable.
I'm sure many of you have heard the term misery loves company -- well that was my first lesson. Yes, when I was down and felt desperate those were the people that I brought into my life. I guess you could have called me "Debbie Downer." But, as I felt stronger and projected a happier, healthier attitude the more positive people I attracted and brought into my life.
As I reflect back, there were a number of positive things I did that helped me work through this transformation; strategies that helped me to get where I am today -- These are the five things that helped me find the smarter, happier, healthier me:
Move outside your comfort zone. Try new activities; get out there and socialize. Pursue your interests and passion. Connect with people who share the same hobbies and positive outlook.
Work on your inner beauty. Feeling good about yourself and who you've become, will attract people into your life who have a similar positive outlook and energy.
Include your married friends into your activities. Let them see the new you, and what you have to offer -- an interesting, stronger, happier and independent person.
Be your own role model. Strive to become the type of person you admire. Make a list of the attributes you most respect, and do what you need to get there.
You may wonder, can divorce really be celebrated while maintaining respect and dignity while providing friendly fun, a night of entertainment and a temporary escape from reality? The answer is yes, the Divorce Party is going to be a celebration of who we are and what we face as we move into the next, new and exciting chapter of our lives. At this Divorce Party, you don't have to be a divorcee to attend. Maybe you're single and interested in meeting new people or perhaps you're attached but come in support of a friend; it doesn't matter because this night is a celebration of new beginnings and life's journeys to come.
Who would have thought that when I said those words "I want a divorce," that 16 years later I feel I'm living the best life yet. I've rethought what a meaningful life really means, reframed my dreams feel empowered, happier and healthier. Please join me as this night is all about you -- while we pay it forward. Part of the proceeds of this event will be donated to the Make a Wish Foundation.
We believe that the spice in life is harnessed from our ability to reinvent ourselves as we cross over each hurdle in life.
Want to learn more? Please join me this Friday night, September 21 at Canada's Largest Divorce Party 2012. Don't miss out, come join the fun. For more information check out the site or email info@divorce-party.ca
Deborah Moskovitch is a Divorce Coach and founder of The Smart Divorce -- providing cost effective resources and tools for developing a happier, healthier future.
Popular in the Community