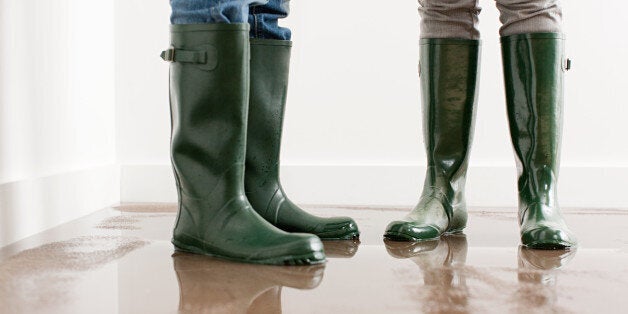 Severe weather is becoming a far-too-often occurrence in Canada. In fact, Canada's Minister of Public Safety and Emergency Preparedness, Ralph Goodale, has announced a new public awareness campaign that aims to increase Canadians' knowledge of flood risks.
Are You Covered if Severe Weather Strikes?
Whether or not flood damage is covered in your home insurance policy depends on your policy's coverage options and what caused the flooding in the first place. If your window is broken during a tornado and water enters your home, typically you will be covered. If water damage is the result of a "sudden and accidental discharge of water" such as an extreme heavy downpour, a burst pipe or a backed-up sewer, you are likely covered provided you have this endorsement on your policy (it's optional and you have to request it).
Over the past year and a half, some Canadian home insurance providers have started offering coverage for overland flooding. Typically, this would apply to homes damaged by overflowing rivers, streams and lakes breaching their normal banks due to snow melt or torrential downpours. However, in order to obtain overland flooding coverage, you must have sewer-back up coverage first. It also may not be available Canada-wide.
Furthermore, not all severe weather-related damage is covered. Earthquakes, for example, are typically not. If you're a homeowner, make sure you review your policy carefully yourself and with your insurance representative, as wordings vary and extra coverage is usually required to provide for all potential natural disasters.
It Starts With Prevention
In addition to purchasing flood insurance, it's important to prevent water from entering your home as best as you can in the first place. Here are some InsuranceHotline.com tips:
Ensure your lot is properly graded to allow water to drain away from basement walls.
Repair any concrete, stones or pavement that may have settled over the years and allows water to pool close to your home.
Landscape your yard and gardens with plants and vegetation that will minimize soil erosion.
Purchase and install window well covers to prevent water accumulation.
Regularly clean your gutters, removing all debris such as dirt, leaves and sticks.
Make sure downspouts extend away from the home by at least six feet and drain in a direction away from yours and your neighbours' homes. Use a rain barrel to catch any runoff.
Keep nearby storm drains clear of leaves and debris.
Inspect your roof, chimney and air vents regularly to insure rain and snow cannot leak into your home. Repair any shingles that are deteriorating or missing.
In the fall, turn off outside faucets and disconnect and drain the garden hose to prevent water from freezing and bursting a pipe.
Have a licensed plumber ensure that the weeping tile - also known as a foundation drain - is in good, working order.
Clear snow away from the home's foundation.
Keep floor drains clear of obstructions.
Seal any cracks around windows, floors and the basement foundation.
If you have them, have a plumber inspect your sump-pit and sump pump to make sure they are in worked order and are not blocked.
Consider having your plumber install a backwater valve. This can stop water and sewage from coming into your home during heavy rainfall.
Protect your furnace and hot water tank by having a professional elevate them so they aren't sitting directly on the basement floor. You may also want to install shelving in your basement to keep items off the floor.
Pad any exposed pipes in unheated areas, such as in the basement, attic or crawl space.
Invest in water leak sensors and alarms that alert you to leaks. Some of these devices can even turn off your water supply if they detect a problem.
Keep important documents and valuables upstairs, if possible.
Don't put anything down the drain that can clog a pipe. Even oils, fats and grease from cooking can contribute to a clogged pipe.
Minimize your water use during a storm.
My Home is Flooded - What Do I Do Now?
If you experience flooding due to severe weather, contact your home insurance provider as soon as possible. Put together as many documents as you can to support your claim, including detailed photos of the damage, proofs of purchase, warranties, and receipts for clean-up, repair and living expenses if you cannot stay in your home.
While you can't control the weather, you can control your home insurance policy and what you pay for it. If you're looking to add overland flooding coverage to your policy, you can check out your options and find the best rate at InsuranceHotline.com.
Follow HuffPost Canada Blogs on Facebook