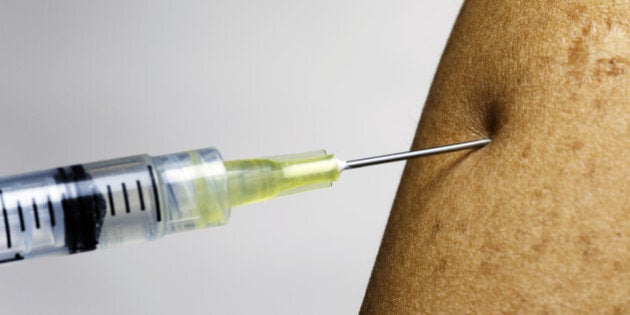 The flu vaccine may not have protected most people against influenza circulating widely this season, but a study Tuesday showed it was effective against the new H7N9 strain that emerged in China in 2013.
Antibodies that protect against H7N9 avian flu make up a small portion of people's immune response to the annual flu shot, "but appear to broadly neutralize H7 viruses and represent promising new targets for therapeutic development against a wide range of influenza strains," according to the research by the University of Chicago and Icahn School of Medicine at Mount Sinai.
"We have clear evidence that a normal immune response to flu vaccination offers protection against dangerous and highly unique strains of influenza such as H7N9," said co-senior author Patrick Wilson, associate professor of medicine at the University of Chicago.
"We now need to develop ways of amplifying this response."
The emergence of avian influenza A (H7N9) raised concerns because of its high mortality rate (about 30 per cent), making it particularly dangerous.
The study, published in the Journal of Clinical Investigation, was based on 28 people who were vaccinated against influenza.
A total of 83 antibodies found in their systems reacted with H3N2, a common human flu strain. Seven of the 83 reacted against rare H7 strains, even though H7 strains were not included in the vaccines that participants received, said the findings.
Three of the antibodies "appeared to completely neutralize H7N9 avian flu," said the study.
Researchers then took their experiments to lab mice, who were treated with each antibody before exposing them to a lethal dose of H7N9 virus.
Those who received the three antibodies survived, while the untreated mice died.
Then, researchers treated some mice with the three antibodies 24 hours after they were infected with the flu strain, and the treatment helped the mice survive.
"It appears more common than previously thought for antibodies induced by flu vaccination to offer cross-protection against H7N9," said study author Carole Henry, postdoctoral fellow at the University of Chicago.
"Although they are not always protective, H7-reactive antibodies can be found in almost everyone that's been vaccinated."
Researchers said their findings offer more reason for widespread use of the annual flu shot.
In a report last month, the US Centers for Disease Control and Prevention said this U.S. winter season's flu vaccine has been just 23 per cent effective at preventing doctor visits for people of all ages.
Its lack of punch was blamed on multiple strains of the H3N2 virus that are circulating and making people sick, but that were not included in this season's vaccine.