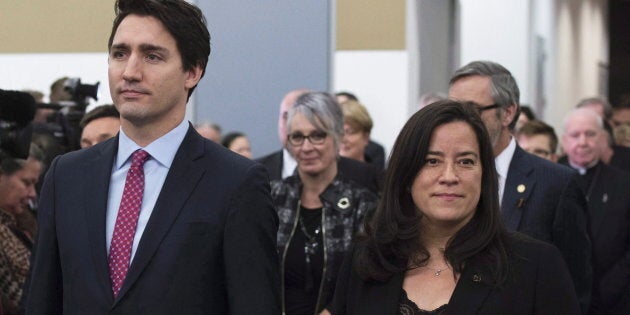 OTTAWA — Former cabinet minister Jody Wilson-Raybould spent Feb. 14 delivering valentines to veterans.
The heartwarming activity stood in sharp contrast to the political firestorm sparked by her resignation as veterans affairs minister earlier this week.
Wilson-Raybould's decision comes in wake of allegations the Prime Minister's Office pressured her — as the attorney general at the time — to help Quebec engineering and construction giant SNC-Lavalin avoid prosecution.
In this episode of "Follow-Up," host Althia Raj wades through the political fallout with HuffPost Canada senior politics editor Ryan Maloney. House of Commons justice committee chair Anthony Housefather also sits down for chat. He tells Raj it's important for Wilson-Raybould to come forward — in his committee or elsewhere — to tell her story.
"I do want to hear from her, I do. I believe Canadians need to," said Housefather.
(3:41) Breaking down the ABCs of the political fallout

(6:56) HuffPost editor Ryan Maloney: Wilson-Raybould's social media suggests she's liking posts that suggest "she's been done dirty"

(13:18) Three hours of "political theatre" in under two minutes

(14:42) Tory MP Michael Cooper claims a "cover up"

(16:26) Liberal MP Anthony Housefather takes you behind the scenes of a heated committee meeting

(20:41) Housefather on what kind of witness he doesn't want to appear

(23:28) Housefather floats a Quebec caucus theory for why Wilson-Raybould was shuffled — then later apologizes

(25:37) Althia reads the Liberal-backed motion that thwarted one tabled by Conservatives, NDP

(27:06) "They want us to vote for a motion that already implies that wrongdoing occurred"

(30:19) Canadian committees vs. American committees

(31:26) Housefather explains he didn't reach out to PMO because of optics and staff are "potential witnesses"

(33:11) How differently the SNC-Lavalin affair is playing out in Quebec vs. everywhere else
Popular in the Community