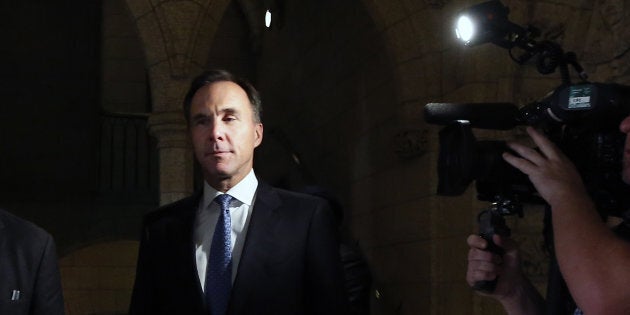 OTTAWA — The Liberals are heading into an election year with a growing deficit and no sign the government will balance the budget anytime soon.
Finance Minister Bill Morneau unveiled the government's fall economic statement Wednesday which included tax breaks to boost business competition — and a $595-million package to help the news industry.
The Conservatives and NDP criticized the spending as reckless, during a week where those parties are wading through some tricky challenges of their own.
In the latest episode of our "Follow-Up" podcast, host Althia Raj chats with our panel of party strategists to dissect red-ink budgets, millions for media, and the perils of cozying up too close to a provincial leader.
(2:55) Panellists discuss fiscal update

(6:15) "Santa Morneau" came around, says Karl Bélanger

(7:31) What does a blue Liberal think about the deficit?

(10:02) Don't forget to talk about Alberta

(14:28) Paul Godfrey's excitement over $595-million media bailout spooks a panellist

(14:47) Ex-weatherman-MP Scott Simms vs. ex-news anchor-MP Peter Kent

(16:47) Pollster David Coletto on the Liberals' up-and-down year

(21:00) Panellists discuss NDP free fall

(27:23) "Doug Ford is setting himself up to be a drag on Andrew Scheer"

(32:48) We left you a funny kicker