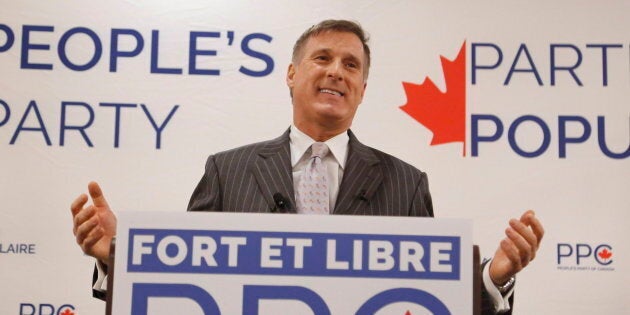 TORONTO — Love him or hate him, Maxime Bernier is a newsmaker.
The People's Party of Canada leader has rebranded himself as a political upstart after a highly publicized break up with the federal Conservatives this summer.
But is Bernier's party picking up enough support to spook the Tories?
Conservative Leader Andrew Scheer's announcement Tuesday, voicing his opposition to the United Nations' non-binding global compact on migration certainly suggests Bernier is having an effect with the Conservative base.
In this two-part interview, "Follow-Up" host Althia Raj sits down with the self-described "Albertan from Quebec" to talk about his fallout with Scheer, and to pose some hard questions about his views on immigration.
Listen to Maxime Bernier: The Populist And His Policies (Part 1) below:
(4:36) Bernier on why he backed out of supporting Scheer
(9:20) "Christmas gift" of 338 riding associations
(11:50) Drawing inspiration from Emmanuel Macron
(12:33) Who is actually showing up to Bernier's rallies?
(21:22) Explaining doing "nothing" about climate change
(28:44) What Bernier's rocky 2018 taught him
Listen to Part 2: Maxime Bernier Likes Talking About Immigration (Part 2) below:
(4:20) "I don't want to play with the emotions of Canadians"
(7:04) Seeking a beta Canadian values test
(9:46) Who is and isn't welcome in Bernier's party
(11:32) Faith Goldy comes up in the conversation
(14:28) The longtail of the PPC's stance on the UN's global compact on migration
(27:44) Bernier's "We don't like discrimination" message to ethnic minorities