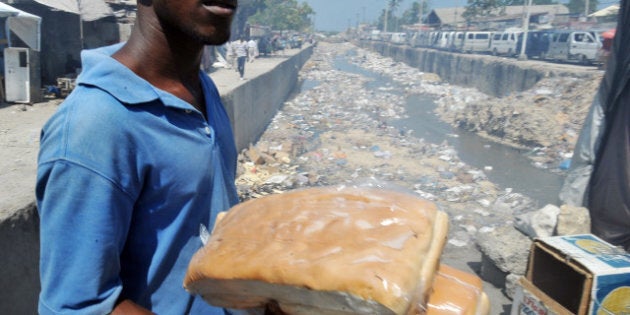 Even after three years of rebuilding from the 2010 earthquake in Haiti, progress continues to be met with stories of difficulty and more bad news. Last week the U.N. issued a report warning that 1.5-million Haitians -- mostly farmers and their families -- are at risk of serious malnutrition because of crop losses due to last year's record-breaking storm season. Tropical Storm Isaac and Hurricane Sandy were the worst of a series of back-to-back storms in late 2012, the result of which was a record deluge of rain that destroyed between 40 and 90 per cent of Haiti's crops, depending on the region. However, the success of one group of farmers holds promise for helping to address and resolve the malnutrition crisis.
To fully grasp the situation -- and the solutions -- it is important to understand Haitian farmers. Based on my research, there are an estimated 600,000 farms in Haiti, and all but three per cent of them are small-scale (or 'smallholder') farms with an average of just under four acres of land. There are four main issues that have led to these smallholder farmers not having enough to eat, a situation that will get much worse in the coming months.
Aid Dependency: Foreign aid, whether from governments or NGOs, is a broken system. Bureaucracy, inefficiency and lack of country-level coordination has resulted in only 15 - 25 per cent of foreign aid actually reaching the Haitians it is intended to help. Plus, most programs that do receive financial support only last as long as the external funding, particularly agricultural programs. When that funding stops, they often disappear with no lasting impact.
These issues translate into farmers not being able to buy staple foods they need beyond what they are able to grow in their fields. For the most part the farmers have no savings, no access to credit and no support system. They start to save money by taking their children out of school, which is not free in Haiti. Next they sell their livestock, often at low prices because others are doing the same thing. Then they start cutting down trees to make charcoal to sell in the cities, which further exposes their crops to flooding. Lastly, they limit hot meals to every other day, which soon turns into once a week.
This is the situation for 1.5 million rural Haitians.
The exception is a group of 2,000 smallholder farmers near the northern city of Gonaives. During the past three years, the Smallholder Farmers Alliance has managed a pilot project to help them form into a for-profit farmer cooperative. They currently plant one million trees a year and operate an agricultural service for members, providing them with high quality seed, tools and training that have resulted in yield increases of up to 40 and 50 per cent. Not to mention that they are now completely self-managed and self-financed.
When faced with the same crop loss as other farmers due to the storms last year, the cooperative was able to purchase the extra seed needed by members to replant their fields. They also purchased close to a metric ton of rice and sold it at a subsidized rate to members. The cooperative took care of its own farmer members without turning to any government or donor sources for help.
But this cooperative doesn't have to stand alone. As SFA prepares to replicate the model -- something we are calling exit strategy aid -- we will begin to help a new group of 2,000 farmers form into a similar for-profit cooperative. The smallholder farmers of Haiti hold the key to the country's recovery. With a little bit of help -- not a handout -- they can lead the way to overcoming the four issues that, if left unchecked, could lead to an entirely preventable human tragedy.