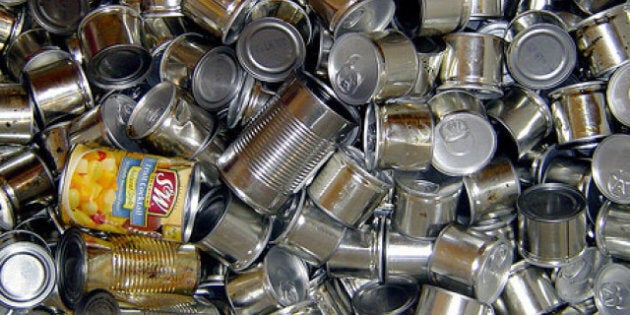 It's a big week for food security in Canada -- not only did Food Banks Canada launch their annual Hunger Awareness Week, but the United Nations Special Rapporteur on the Right to Food arrived as well. Both events highlight the growing problem of hunger in Canada and help draw attention to the root cause of food insecurity: lack of income.
Hunger Awareness Week asked Canadians to "Give it Up" for hunger, reminding us that almost 900,000 people use food banks monthly -- a number that has grown since the beginning of the recession in 2008. While this number is shockingly high, the total only reflects the one in four Canadians that use this service. As people challenge themselves to 'give up' a food item they enjoy, they should think beyond food banks and consider the reason people go hungry: they can't afford food.
People living with low-income -- whether from paid employment, social assistance or both -- are forced to do more with less money. The majority of people living in poverty are employed, with 25 per cent of Canadians working low wage jobs and earning less than about $13 an hour. This is a rate that will barely keep individuals out of poverty, and it highlights the fact that this is not about accessing food, but rather having the means to purchase it.
Even Food Banks Canada (FBC) has acknowledged this issue in their 2011 Hunger Count report stating, "Low income, whether in the short or long term, is at the root of the persistent need for charitable food assistance in Canada." Food banks had never been seen in Canada before the 1980s and when introduced in 1981 were intended as an emergency measure only, and certainly not as a long-term solution to address hunger. The Canadian Association of Food Banks (the precursor to FBC) had a three year mandate when they were first established, but continued when it was clear hunger in Canada was not going away.
What has developed since their inception is a charitable model that allows individuals and corporations to offer donations with the satisfaction that they have assisted the low-income population, and contributed to the end of hunger. While these donations are helpful in the immediate, and are necessary in the current economic climate, they contribute to a perpetual cycle of need -- one that can only be broken with political will, federal funding and progressive social policy that adopts a human rights approach to poverty, income insecurity and inadequate housing.
Missing from this conversation about hunger is that everyone in Canada has a right to food. When the federal government ratified the International Covenant on Economic, Social and Cultural Rights, it agreed to key provisons including Article 11(1) which articulates the right to an adequate standard of living, including adequate food, clothing and housing, and Article 2(1) which obliges states to use the maximum amount of resources necessary to fulfill these rights.
This human right to adequate food means that states are not obligated to give out free food -- but to make sure food is affordable and accessible. Canada is required to fulfill the right not only as a moral imperative, but because of the commitment it made by ratifying the international treaty.
The Special Rapporteur on the Right to Food, Olivier De Schutter, is an independent expert who will review Canada's compliance with the economic and social right to adequate food, and is here until mid-May. Canada is the first developed country he has visited on mission, in large part because of the growing concerns around access to adequate, affordable food in one of the richest countries in the world.
De Schutter is meeting with government officials, social justice and community organizations as well as individuals struggling with food insecurity. De Schutter will communicate with the Canadian government, as well as the United Nations Human Rights Council, on any violations of the right to food, and hopefully encourage this government to take necessary steps to ensure no person in Canada is hungry. The response must go beyond food banks.
While people in Canada bring cans of food to food banks or take part in a hunger challenge this week, they must realize that this may be necessary in order to end hunger in Canada, but it is by no means sufficient. To get to the root cause of the issue we have to remember that this is a matter of money: inadequate income is ultimately what keeps individuals and families hungry. Hunger is a matter of justice, not charity.