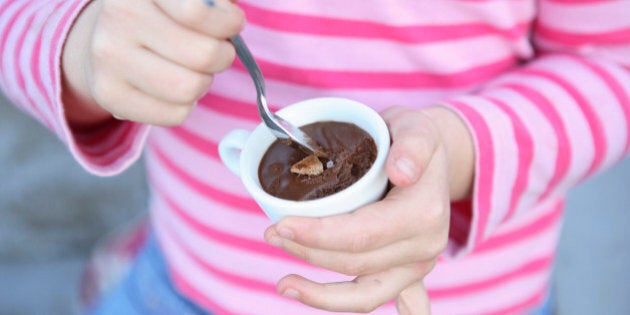 A recent newspaper article brought to light the fact that some teachers in an area near Toronto are taking kids' snacks away or not allowing kids to eat them if they're "unhealthy."
Parents are furious, and they've got every right to be. When a teacher makes the decision to disallow certain foods in their classroom, the result can be very unsettling.
Here are a few excerpts from the above article:
Increasingly, parents in Durham say schools are policing the food in kids' backpacks -- from telling students they aren't permitted to eat snacks that are deemed unhealthy, to entire lunches being withheld and sent home.

Common examples of food discouraged in their children's classrooms include Goldfish crackers, Bear Paws cookies, granola bars, string cheese, Jello, juice boxes, pudding cups, gummy fruit snacks, raisins, Animal Crackers, chocolate milk and Sun Chips.

Local mom Tami DeVries says when her son was in kindergarten his lunch of kielbasa, cheese and Wheat Thins crackers was confiscated and replaced with Cheerios, while Alicia Nesbitt was "furious" that her stepdaughter, currently in Grade 1 with the Durham Catholic District School Board, had chips removed from her lunch the first week of school.
Toronto schools already have restrictions on certain foods because of allergies -- i.e. nuts -- but this isn't about allergies; it's about judgment and shame.
The shame and embarrassment it creates for a child is heartbreaking.
This isn't a new situation. Incredibly, it seems to pop up with every new school year. But as much as I've seen it in the news, it never becomes less outrageous or inappropriate. I can't even imagine what a fit I'd launch into if one of my kids' teachers did that to them, and this is why:
Food shaming kids and parents is disgusting
What an incredibly horrible example it sets for kids to make them go hungry in the classroom, which is supposed to be a safe place for all children, and to make them feel judged and shamed for something that's beyond their control.
By taking away or not allowing a child to eat what their parent packed them, the teacher is not only making a nasty statement about the parent to the child, but also creating negative feelings for the student about the teacher and the school. The shame and embarrassment it creates for a child to have their snack deemed inappropriate while other kids are free to eat their snacks is heartbreaking.
Teaching a child to go hungry instead of eating is not OK
Obviously. What if the child is hungry? How can an educator, who is presumably in that job because they care about kids, deny them nourishment and teach them that hunger is preferable to eating certain foods? Aside from the social implications, how about the academic ones? When a person is hungry, concentration and learning suffer (and here).
You don't know where someone is coming from.
A school has no idea if a kid's family uses a food bank. Maybe Bear Paws and granola bars are what the family was given that week to eat. What if the family, unbeknownst to the school, is living in a shelter? A parent could be going hungry so their child could bring that muffin to school. An educator, or anyone else for that matter, has zero right to not allow a child to eat what may be the only nourishment they have all day.
Demonizing foods is a really bad example to set for kids.
I've said it a thousand times: there are no "bad" foods... but this situation sure makes the good/bad food dichotomy loud and clear.
We should be teaching our kids that all foods can fit into a healthy diet. While not all foods are nutritious, if we want our kids to grow up with a healthy attitude towards food and eating, we should not be teaching them that going hungry is better than eating "bad" food.
Who decides what's "healthy" or "unhealthy?"
Allergy restrictions at schools are created from actual facts -- i.e. a kid has an allergy, therefore the food is restricted.
The arbitrary removal of "unhealthy" snacks from a child's lunch, even homemade banana bread that someone's parent worked hard to make, is absurd. Even with all the nutrition training I have, I would never feel comfortable telling a child that they can't eat something their parent chose to send for lunch. If a school wants to impose any restrictions on lunches and snacks, these should be created with parental input and implemented board-wide, not by vigilante teachers.
And to the teacher who replaced the cheese and crackers lunch with Cheerios? Bad choice. You clearly know nothing about nutrition.
Overall diet pattern matters most.
My kids get vile junk food in their lunches sometimes, because they like it. That's right! They like Oreos just as much as I do, but overall, their diets are nutritious. Does the school know what my kids eat in the other two meals I provide them, or IF they even eat? No, it doesn't. Teachers should not assume the role of policing kids' diets. Instead, if they have a concern, having a private conversation with parents would be preferable to involving the students.
Schools should 100 per cent definitely be providing nutrition education to students and to parents. They should be teaching cooking classes, how to read labels and how to balance meals. But taking kids' lunches and snacks away like this is disgraceful, for the social and the academic repercussions.
Follow HuffPost Canada Blogs on Facebook
Popular in the Community