Studies have shown our taste for foods is created by cultural and learned experiences as Petrini (2001), Duruz (2003), Bell and Valentine (1997) and the well-known food writer Montanari (2006) describe. Further, academics like Korsmeyer (2002) demonstrate how much of the importance of food is cognitive.
Mountains bring this to the fore. Mountain food represents a cultural value, an emotion, and if you are lucky a shared experience too.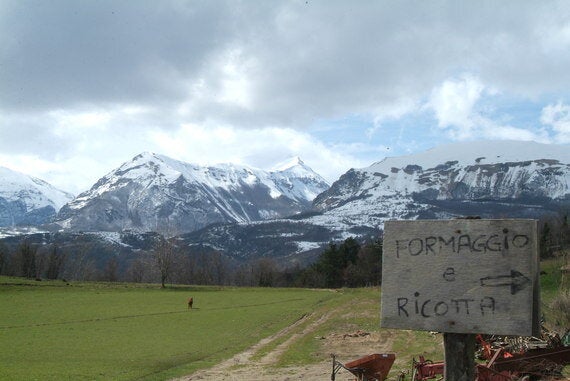 Milk and cheese producer, Roberto Di Mulo, based in the Monti Sibillini National Park, Central Italy, explains what this means:
"Being located in the mountains is a real advantage in that the image of mountains, the feeling of mountains, makes people think purity, health, and traditions. In mountains like ours, you have food that is connected to belief."
When I ask him to elaborate he has a lot to say:
"Everyone has to work together to see our reality through the lens of tourism. I don't only have a high quality product but I offer an emotion. An experience. But here the government sets up a battle of bureaucracy against this, with endless laws and costs. It is illegal for me to milk the cows by hand. But that is what visitors want to see. That is what families want their children to experience when they come to mountains."
Nor is that all. By law only registered trained people in the business (family) are allowed in the cheese and yogurt production rooms. Tourists would enjoy this learning experience but they can only look through a window. All the containers, surfaces and utensils must be metal.
"Don't get me wrong. Hygiene is top importance. But making cheese the traditional way, inside the park, I would like to be able to use a wooden spoon when I'm doing a demonstration. People come here to see traditions. Why don't they teach us how to clean and care for wooden utensils? After all, people used these things for centuries without becoming ill. If you want visitors, you have to offer a real experience, not something staged. That's what I mean about food connected to belief."
When I mention the classic images of dairy cows in the Alps...
"In the Trentino!" Roberto interjects. "They have their own laws. There the government understands what is needed. They are paid one hundred euro for every cow they take to mountain pastures! They can milk by hand. They can use wooden utensils. They can make products in traditional buildings. Why do you think they have so much tourism. All I want is to offer what visitors want -- but bureaucracy stops me. Food should not be about politics."
Roberto's products are highly sought after and he sells in Rome and all over Italy. In fact he has orders for 20 per cent more ricotta per week than he can produce. Apparently some mountain producers will buy and use cheap milk from the lowlands when their own production falls short, but Roberto won't compromise quality. His milk costs approximately 50 cents a litre, compared to the Padana lowlands where industrially farmed bulk feeds are cheap and milk costs 30 cents a litre.
His commitment is to food and belief, and he embraces modernity as much as old traditions.
Only lactating cows are kept inside his barn where they move freely. They are not locked in stalls like industrial dairy cows, nor are they given milk production stimulants.
The cows decide when they 'feel' the need to be milked and they walk of their own accord into a robotic station where they are washed and milked by a machine. They also have a hanging backscratcher, a bristly object the size of a bale of hay, which they can rub against to reduce stress. They are only fed hay from the mountains and you taste the quality.
Unlike the lowlands, many mountain producers fulfill the post-productivist vision of rural multifunctionality whereby the 'farmer' is also a custodian of the land and an educator.
As much as making food, Roberto works to retain our cognitive taste experience. The food represents our idea of mountains because he personally controls every stage in terms of quality and awareness of animal welfare, biodiversity, human health and lifelong learning.
Can we call this creation of food, thought and feeling, 'dairy farming'?
Bell, D.,Valentine, G. (1997) Consuming Geographies: We Are Where We Eat. New York: Routledge
Duruz, J. (2003) 'Eating at the Boarders; culinary journeys' in Environment and Planning Development; Society and Space. 23, 51- 69
Korsmeyer, C. (2002) Making Sense of Taste, Food and Philosophy. Ithaca: Cornell University Press
Montanari, M. (2006) Food is Culture. New York: Columbia University Press.
Petrini, C. (2001) Slow Food, The Case for Taste. New York: Columbia University Press
Follow HuffPost Canada Blogs on Facebook
Popular in the Community