 Food trends can be fickle in the restaurant world and predictions for this year's hottest menu items abound. This early into 2013, there are still more questions than answers. Are food trucks here to stay? Will charcuterie keep making the cut? Are burritos back in style?
A new survey from the Canadian Restaurant and Foodservices Association (CRFA) put the queries to those who would know best — the chefs.
While many of us love to be creative cooks at home, it's not easy to stay on top of the latest culinary innovations, which is another good reason to go out for dinner for a change.
South of the border, the culinary curators at Epicurious go one step further, "sifting through ingredients, food news, and pop culture" to come up with their forecasts which they categorized into "Front Burner" (trends they think will gain popularity) and "Back Burner" (trends that have probably already peaked). We love that they put our very own Toronto on the up-and-coming list — thanks in part to the arrival of New York super chefs David Chang and Daniel Boulud.
Meanwhile, Bon Appetit has also come up with a list of their top 25 food trends of the year, including duck eggs, DIY yogurt, the Korean sriracha hot sauce and a Mexican version of the Vietnamese banh mi sandwich. There's very little overlap between the lists, which means it could be quite an eclectic year of culinary creations.
But if you're still not caught up with last year's food trends, there's still plenty to enjoy, like some of the comfort foods noted by Toronto Life. Here's hoping tacos and gourmet doughnuts stick around a little bit longer...
LOOK: Canada's top food 10 trends of 2013, according to the Canadian Restaurant and Foodservices Association.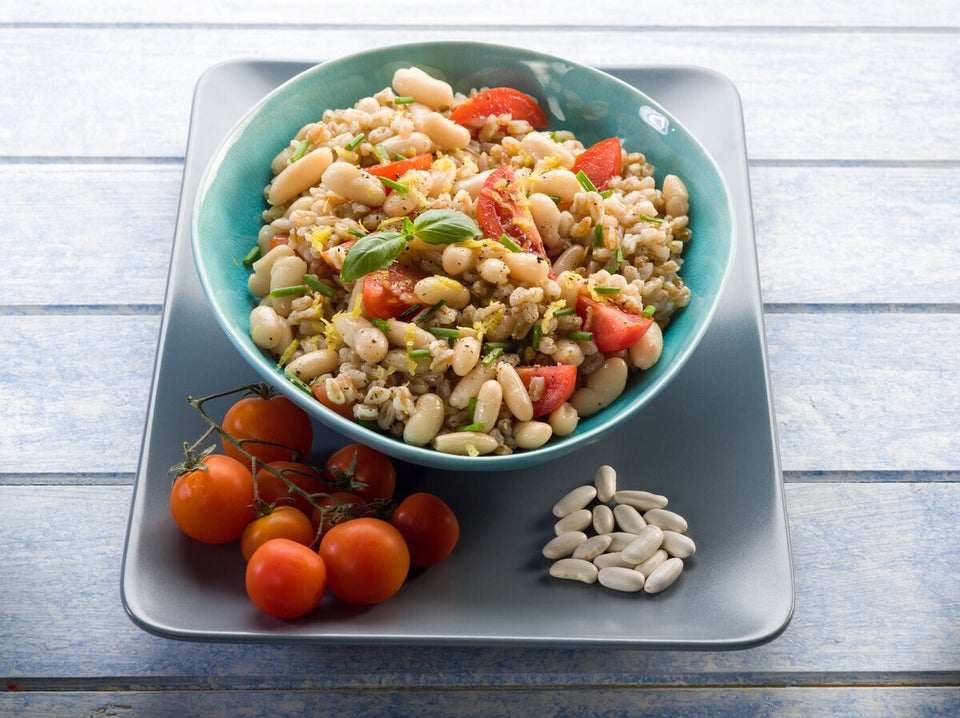 Canada's Top 10 Restaurant Trends Of 2013
The top 10 Canadian food trends in 2013 are:
10. Ancient Grains: Ancient grains (also know as heritage grains) such as spelt, quinoa, kamut, millet and amaranth are considered to have a higher nutritional value than other grains — and are just as tasty. They can be easily substituted in a variety of foods and dishes such as bread, risotto, pasta and pizza.
9. Non-Wheat Noodles Or Pasta: Asian-style noodles and soups (think Vietnamese pho and Japanese soba) have surged in popularity, elevating them from street food to restaurant fare. Rice pasta is also popping up on Italian menus, catering to dietary restrictions.
8. Simplicity/Back To Basics: North American culinary staples like chocolate chip cookies and milk, macaroni and cheese, and even meatloaf are now coveted by some of the country's top chefs. You'll even find classic international go-to dishes pared down to only a handful of the most basic and wonderful fresh ingredients.
7. Greek Yogurt: If you've strolled down the dairy aisle of your local grocery store lately, this should come as no surprise. Strained to remove the whey, Greek yogurt has long been used to make tzatziki, very similar to Lebanese labneh. You can make it non-fat, low fat, full fat, flavoured or plain, but it's usually always thick, creamy and delicious. We can't wait to try local chefs' versions of it.
6. Ethnic/Street Food Inspired Appetizers: Quick and dirty street food is still hot but the variety has been getting better and better. Some classic examples are tempura and taquitos — and no, we're not just talking about the 7-Eleven variety.
5. Food Trucks/Street Food: OK, due to a Canadian-style overload of red tape, this country doesn't have nearly as many food trucks as the United States, but the trend is going in the right direction. We'll take as many as we can get! Pictured here is the grilled cheese truck Cheezy Bizness in Calgary.
4. Farm-/Estate-Branded Ingredients: Since chefs are starting to receive rock-star status, why not farms? Restaurants are increasingly using farm- and estate-branded ingredients and naming them on their menus, such as "Meadow Sweet Farms greens" or "Cumbrae's free-range chicken breast."
3. Sustainability: Raising and growing food that is healthy for consumers, animals, and does not harm the environment has been on the mainstream radar for a while now. If you're still not exactly sure what it means, HuffPost blogger Dr. John Salerno tackles the subject, as it pertains to sustainable agriculture and farming, cooking and eating.
2. Gluten-Free/Allergy-Conscious Food: Gluten-free diets are surging in popularity as a treatment for potentially serious gluten allergies and celiac disease, but they've also become a trendy way to lose weight. Thanks to the surge of gluten-free products (such as the special almond bread shown here) and rice or other wheat-free noodles dishes, gluten-free dieters have never had so much choice.
1: Locally Produced And Locally Inspired Dishes: The locavore movement and locally produced food (like the dairy and blueberries in these delicious-looking mini cheesecakes) was the CRFA's top trend item for the fourth year in a row. Who are we to complain?
Popular in the Community