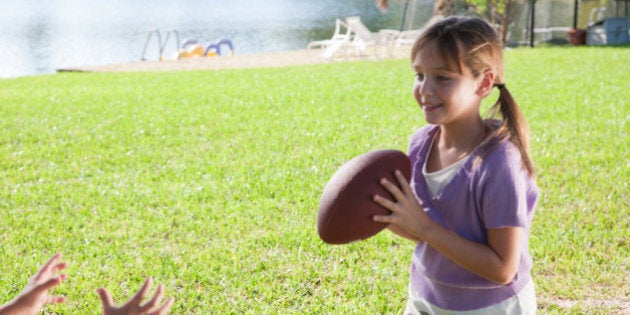 Remember walking through the halls of high school? Maybe you loved it. Maybe the thought of it even now fills you with a sense of fear and trepidation. Regardless, we all scraped and clawed at the walls, trying to find our place. And that didn't usually happen in the classroom. It's the after-school clubs, groups and sports teams that offer up a chance to be a part of something bigger.
But those programs are disappearing, depriving kids of a well-rounded education--unless parents can afford extra fees. Public education and equal opportunity are shifting plates in this high school world. They need more. We need more.
With this in mind, I started watching videos that were part of a web series called "Back in the Game." I was intrigued. Nissan created the program, along with the CFL, sponsoring 21 struggling high school football teams across Canada to revitalize the hopes and dreams of over 1,000 teens in 18 cities and, of course, align themselves as a socially responsible brand that cared about future generations. The teams were given new equipment, apparel and locker rooms, as well as mentoring by CFL alumni.
Two of the 21 teams were featured: Edmonton's Eastglen and Hamilton's Sir John A. MacDonald. New gear, funds and interest fostered a team spirit that was already present and growing.
"It is so important for young people to be part of a team and feel that they belong," said Christian Meunier, President of Nissan Canada. "Nissan's global culture is one of acceptance and diversity."
Bullied teens found solace in a football family. Students new to Canada were accepted and embraced. Notorious skippers started attending class. The rose-tinted camera lens showed it all: unity through diversity.
I'm not saying this isn't inspirational. It is. Big bucks are made on blockbusters with similar plotlines. There is something primal about belonging to a group that's pushing past adversity, working toward a common goal. The story always hits home.
The reason I was originally intrigued was because of one particular character who kept appearing on the screen. Taylor Casey: a girl in Grade 12, seemingly quiet and soft-spoken with dark-rimmed glasses and straight brown hair. And, a member of the Sir John A. MacDonald Chiefs.
I tried to imagine what the reaction would have been if a girl had tried out for the football team at my high school. If I had tried out. The hypothetical scenes in my head were less than pretty. And yet, she was a part of the football family. The team was her band of brothers. I was amazed. This is what I found inspiring.
When the opportunity arose to travel with both teams to the Grey Cup in Vancouver, I immediately packed my bags.
Over the weekend, while the teams full of first-time plane-riders shrieked as the CFL jet took off, the players spirited across the field during workshops taught by the league's players at BC Place, and they collectively cheered non-stop during the Grey Cup game, it was hard to pick Taylor out from the crowd. She was a part of it all. As she should have been.
When we got the chance to sit down, during the plane ride home, I had to ask her: Why football?
Taylor explained that her older brother had played and she had done tag football in previous years. Then she saw the team practicing in Grade 9 and decided to try out, along with a friend. Not only was it fun, but it also gave her a life-long group of friends.
"Going to school isn't always the easiest thing, if you just go to do school work," she said. "Sponsoring a football team that doesn't have a lot of players in the first place, brings people out on the field, gets them involved in school, makes them want to come to school."
She's obviously now an accepted member of the team, but that wasn't always the case. "When we started, there were 3 girls on the team. We were perfectly fine with it," she said. "It was the guys who took a look of adjusting, because they were like, 'We don't want hurt you. You're girls, you're weak, you can't do it.' They didn't want to hit us during practice."
That attitude is something I never saw over the weekend. So, at some point, there was a shift. Taylor remembers the moment, during that first season, a few games in. They hadn't won in awhile, but things were looking up. "Then, in the last ten minutes, they beat us. It was the most heartbreaking thing ever," she said. "I think that's really the time when we all became really close. We felt the defeat together."
We strive so hard for success, yet it's often in defeat that we find ourselves, our place in the family of things.
Taylor has gone on to play with the team every year, facing unpleasant reactions from some players on opposing teams. "At the games, it was a lot different," she said. "They got really angry that we were on the team and they roughed us up more than they have to. We've had some plays where there was some unnecessary roughness, in that first year."
Unnecessary roughness brought out the protective side of her newly bonded football family. "They had my back during those times," she said, referencing getting "trucked from behind" for no reason.
The teamwork during adversity, striving for a unified goal, it all funnels into a greater education--especially for girls. In a global online survey of 400 women executives, conducted by Longitude Research across Europe, the Americas and Asia-Pacific, 94 per cent of respondents had been involved in sports when they were younger; 74 per cent noted that a sports background helped drive a woman's leadership and career potential; and 67 per cent said that such a background would positively influence their decision to hire. It's a competitive world out there. When girls have access to the same level of sports as their male counterparts, they get the tools and education to increase their likelihood of success.
Nissan's "Back in the Game" offered teams like Taylor's the chance to excel, as well as bask in the spotlight. One step further, that spotlight also offered young (female) viewers affirmation of what is possible. If she can't see, she can't be it, right? "I have two daughters of my own," said Steve Rhind, Director of Marketing at Nissan Canada. "They can see that and go, 'hey, we can do that too.'"
Although for Taylor, football seems to be about fun, fitness and friends, she is building potential inside herself, as well as creating an example for other girls about what is possible when you go after what you want. Perhaps she doesn't see that just yet. But I think she will.
One of the Eastglen players said it best in the tenth webisode: "It's more important to start the flame somewhere, rather than carrying on the torch."
Here's to all the girls who are starting flames somewhere. You're setting the stage for the world to be a brighter place.