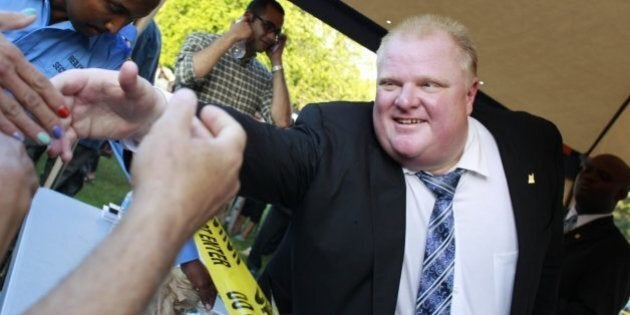 Rob Ford says the "Ford Fest" barbecue he is hosting this week is not a campaign event, even if robocall invitations to the party ask Torontonians to express their support for the mayor.
The Fords controversially received a city permit to hold the event Friday at Thomson Memorial Park in Scarborough, even though municipal election rules state that no permits for city facilities — including parks — can be issued for the "use or promotion" of a candidate during an election.
The mayor maintains the barbecue is a family tradition and a way to give back to the community. His key rivals, Olivia Chow and John Tory, wanted Ford's request for a permit denied, believing the event will have all the sights and sounds of a typical campaign rally.
A poll released Wednesday suggests the average Ford supporter lives in Scarborough or the mayor's neighbourhood of Etobicoke, where the Fords have hosted a summer party for nearly two decades.
But while Ford is promoting the event as a bit of non-political fun that even rival candidates are welcome to attend, a telephone invitation sent to the North York home of a Huffington Post Canada editor on Tuesday does contain a reference to the campaign.
"If I can count on your support, please press 3," Ford is heard saying in the recording.
Listen to the audio below:
Ford defended his use of automated messages on Wednesday.
"We have robocalled before and we will robocall next year," he told The Toronto Sun. "That's how you invite people. You cannot, it is virtually impossible to get to everyone's door with an invitation."
But it turns out the party this year will be a dry one as the province of Ontario turned down organizers' application for a liquor licence.
A spokesman for the Alcohol and Gaming Commission of Ontario told The Canadian Press the event didn't qualify for a special occasion permit because it is not considered "municipally significant."
And it's a safe bet many Toronto voters will be paying close attention to how political things get Friday night.
Toronto Ombudsman Fiona Crean took to Twitter this week to say she has been "deluged" with complaints about the event.
Toronto voters head to the polls on Oct. 27.
With files from The Canadian Press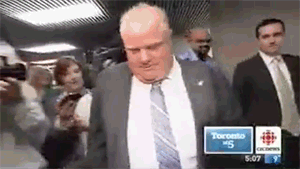 Best Rob Ford GIFs