If you're an Albertan who's sensitive to smoke, you might want to stay inside today.
More than a dozen wildfires currently burning across Alberta and Western Canada have created hazy skies that could be problematic for those with respiratory issues.
Calgary's air quality is in decline, with Thursday and Friday's air quality health index measuring at "moderate."
Edmonton is under a health advisory and Alberta Health Services is recommending anyone with existing health issues remain indoors and avoid strenuous activity.
The good news, however, is that the amount of smoke being produced by the Spreading Creek wildfire in Banff National Park has dropped, reports the Rocky Mountain Outlook.
A total of 18 wildfires are currently burning in Alberta — three are out of control, six are being held and nine are under control. Most are in the northern part of the province.
Story continues after the slideshow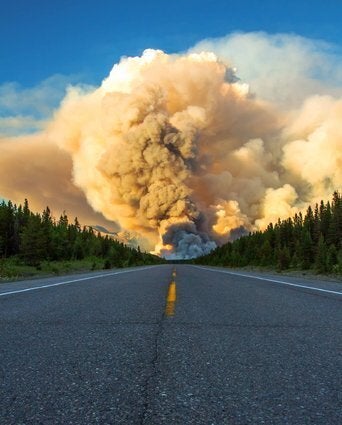 Spreading Creek Wildfire
More than 140 firefighters are on hand battling the Spreading Creek wildfire that straddles the border of Banff National Park.
The fire, which was ignited two weeks ago by a lightning strike, covers 7,000 hectares — approximately the size of Red Deer.
And while officials say the fire is good for the ecosystem and they were planning a prescribed burn in the area anyway, it is being closely monitored to prevent it from getting out of control.
Parks Canada says a 20-kilometre stretch of Highway 93, also called the Icefields Parkway, just south of the junction with Highway 11, could be closed from 2 p.m. local time to 7 a.m. daily so fire crews can try to contain the Spreading Creek fire.
In northwest Alberta, a forest fire that has crossed from British Columbia has resulted in the evacuation of Nose Creek, a remote settlement north of Grande Cache with a population of 12, and some work camps.
The Red Deer Creek wildfire covers 7,000 hectares in B.C. and about 1,000 in Alberta.
In B.C., there more than 120 forest fires currently burning. The Northwest Territories has about 160.