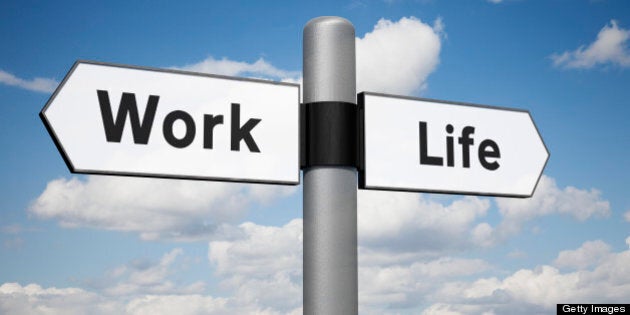 Blurred Lines isn't just the name of a hit song, it's also a way of life in a world in which we're increasingly tethered to phones and tablets. With the introduction of countless apps, not to mention the latest in technology with iPhone 6 and 100 unanswered emails from work, the urge to stay connected almost 24/7 is the strongest it's ever been.
If you thought balancing time at home and at work was difficult before, just wait. But even more troubling than the how and what issue of time management is that research is now showing that all this connectivity increases our stress levels. Studies on work/family conflict report more absenteeism, more sick days, more sleep disturbances, and challenges in nutrition as we juggle and rush to balance work, family, friendships and fitness, says University of Toronto sociology professor Dr. Scott Schieman, an expert on work/family conflicts.
Dr. Schieman, a Canadian Institutes of Health Research (CIHR) funded researcher, says that it's not only the burden of increased work that affects stress levels; it's also our responsibilities on the home front -- or as he puts it "work-life interface." It's a new area of study, one he's exploring using data from an ongoing survey of Canadian workers. "We are now focusing on role blurring, getting away from the idea that work is separate and distinct from family," he told me recently.
"It's hard today to conceive of them as separate spheres. It's not like whatever happens at work stays at work." This "spillover effect" is not something our grandparents had to address, he says. Neither did people from the early dual income households of the 70's and 80's who debated shared housework and complained of second shifts. They worked, then came home. But few of them were clinching business deals on the phone while warming milk for their kids at bedtime.
Work creep is obviously behind today's blurred lines. And we are not handling it well. As Dr. Schieman notes, "people are not punching in at nine and punching out at five anymore." The stress that results is often seen in sleep disturbances -- in going to bed later, an inability to fall asleep, and waking up not feeling refreshed.
But you can't blame it all on the office. In fact, a Penn State University study determined that people's cortisol stress levels are actually lower at work than at home. Responsibilities at home, especially financial ones and challenges of childcare, add to the stress we feel. And strange though it may be, some of us look forward to work after a weekend with the kids or a family vacation. "One reason people describe work as a haven is that sometimes the responsibilities related to the role are clearer. Co-workers can be a support, work can be challenging and interesting, work adds structure to everyday life, and you feel useful and that you matter," says Dr. Schieman.
Face it, home life is stressful: Trying to parent, trying to be a good parent, organizing and monitoring your kids' school and play schedules, and applying the right discipline to the right situation is hard work and mostly thankless. "We found that a lot of women in particular sacrifice a lot of their own time, the 'me' time they would spend on fitness and other things. Other people talked about the time they spent in the car shuttling kids to different activities." A hockey tournament takes a whole weekend of driving, cheering on your kids, yelling at the referees, and drinking bad hot chocolate in damp rinks. Answering 100 emails is easy by comparison.
In Dr. Schieman's view, blurred lines is the new normal and we may as well throw out the word 'balance'. "Balance is like a seesaw with a weight on one side and on the other. It is just not useful anymore because there is so much blending and blurring." He suggests we begin to manage our time crunch by re-examining the workload stresses and workplace structure we're handed. But is a good "work-life fit" even possible? Flex-time, supportive managers, and workplaces that understand the necessity of a "work-life fit" could help. But until then, we are on our own!
Popular in the Community