The 31-year-old former model, who appeared on season 20 of the hit reality TV show, is finally showing her bare face to the world, after hiding behind makeup for more than a decade.
"In the last couple years, I decided I didn't want to feel like this anymore," Rice, who was first diagnosed with the autoimmune disorder at age 19, told People. "I spent my 20s feeling insecure and basing my self-worth on how I looked, and I didn't want to look in the mirror and worry about not having perfect skin."
According to People, Breanne spent the beginning of her modelling career worried about her appearance and would spend countless hours covering up her face with makeup.
"I felt like I had to cancel out all these things on my face to look normal. It was a long process everyday to get outside," she recalled.
The Seattle-based nutritional therapy practitioner first revealed her disorder in March in an Instagram post.
"At 19, I was diagnosed with vitiligo, and it spread rapidly causing me to lose over half of the pigment on my face. I got really good at doing my makeup, and I didn't want anyone to know about it. I couldn't look in the mirror without crying, and feeling unattractive," she wrote on Instagram.
She continued, "It's taken me a very long time to be able to go public with this, and to walk around publicly without any makeup. You know what though, I own it. There's not much I can do about it. I can only love myself, and not let my circumstances define my value or self-worth."
Fast forward four months, and Rice is embracing her skin, partially in thanks to the overwhelming amount of support since posting that initial image.
"It really spoke volumes that there are so many women who resonated with that post," she told People. "As a culture, we put so much emphasis on our outside appearance. For me seeing women build confidence, it really brought me joy."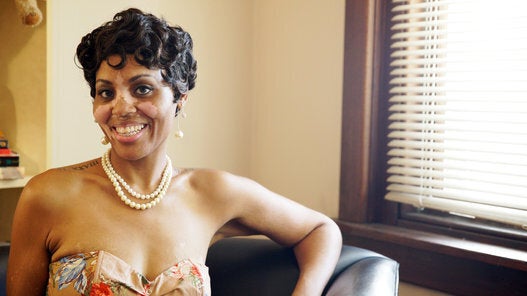 Woman With Vitiligo