We had just completed our web documentary, Prison Valley, and I think it was my accomplice behind the camera, Philippe Brault, who was the first to talk to me about Fort McMurray, a little town in a far-flung place, and the "highway of death" leading to it.
It's a black-gold-rush town that operates at the same pace as the rest of the world: at full throttle. At first, I was skeptical. We had already dealt with single-industry towns and Fort McMurray had been the subject of a number of films. But the next thing I knew, we were on our way. The trip turned into a journey, and the journey became a string of meetings with everyone from oil barons to the industry's menial workers, from nude dancers to romantic trappers, from homeless people to lobbyists, from amazing unionists to exhausted industry executives, from happy families to barely 20-year-old drug addicts, from the mayor who was under pressure to the fishermen who were angry that fish were being deformed by the cyanide and pollution spewing from factories.
In all, it involved 60 days of shooting, about as many interviews, tons of excellent sandwiches at Mitchell's Cafe, thousands of kilometres in all directions, lots of "no, no, we don't want to talk to you"s, and at long last, people opening up and starting to confide in us. Not to mention bottomless cups of coffee.
The objective was simple: go to both sides -- industrialists and environmentalists -- as if we were on the front lines, where it was critical to listen to the logical arguments of some and the convictions of others. And we needed to be in Fort McMurray during the cold months so we could show it as it had never been seen before: white snow, black asphalt, winter sun. We had to superimpose another dimension onto that lunar, desaturated landscape: the game. The game as a means of sparking public interest and debate, a tool for confrontation and total delinearization. With this wild hope: to provide Internet users with an exploration of the city on par with its unbridled and limitless development.
In short, design a game, because capitalism itself is a game -- a cruel, terrible, fascinating, terribly human game. You might even say that the city of Fort McMurray is as virtual as it is real because it's so excessive. Fort McMurray is somewhere between a real-life SimCity and the economic lung of a country that is becoming increasingly less green.
The entire Fort McMoney project was driven from the start by the idea of combining documentary film and video games, auteur perspective and spectator freedom. That was really both our goal and our desire. There were several reasons for that -- the urge to innovate, explore new forms of narration and involve the public. The world's future is being shaped by energy issues. And gaming is a lever for raising awareness.
In a few days, Fort McMoney will finally emerge after more than two years of gestation. The experience is going to plunge you into the heart of the black gold rush and let you explore the city, interact with its residents, and address questions to oil industry bosses and environmental activists. The Fort McMoney experience will be a kind of web-era platform for direct democracy. The winner, if there is one, will be the battle of ideas.
Your goal: Take control of the world's largest energy project and make your worldview triumph. Fort McMoney is a simulation game, an economic game and a management game all rolled into one. And it's a documentary in real time, with characters, emotions, tensions, smiles and suffering. By accumulating prestige points, you'll have an impact on the city via voting in surveys (three per week) and a weekly referendum. Each game segment will last one month. Sign up now to get a head start.
And then there is this. A haunting recollection. During the two winters we were in Fort McMurray shooting, there was always a crow or two overhead. These birds of doom abound in the region and are eating up the city the way the oil companies are gobbling up the ground. One question kept coming back: When all is said and done, what if the "dance of the rotting carcass" is really our dance? The question spawned others: How did our thirst for oil make us think it was smart to spend a barrel's worth of energy to produce two barrels? How can our society rush headlong in pursuit of wealth that is immense, instantaneous and mind-boggling, but at the same time so devastating and irreversible?
Two years later, Fort McMoney has arrived.
It belongs to you. Write the film. The game starts November 25.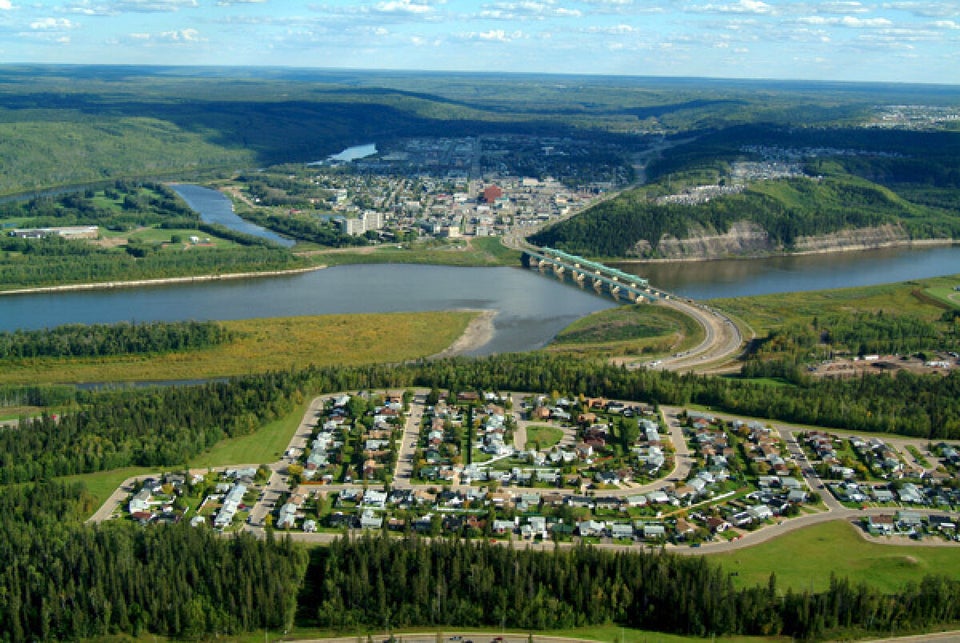 Facts About Fort McMurray, 'Oilsands City'