Alberta companies looking for help in rebuilding Fort McMurray have been met with an overwhelming response.
Spirit Staffing and Consulting held a job fair in Edmonton Tuesday that drew out-of-work Albertans who hope to get work while helping the northern Alberta oilsands hub get back on its feet.
Less than two hours in, event staff had to turn people away as more than 1,000 showed up with resumes in hand.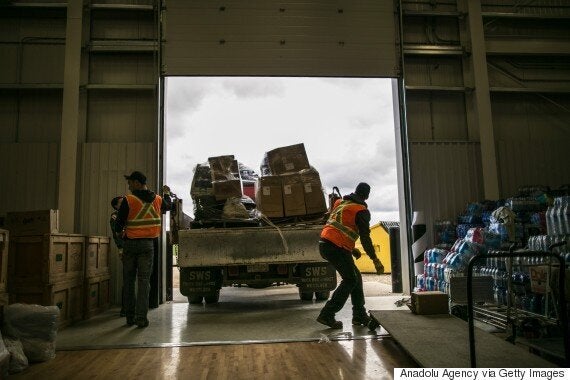 Volunteers load donated items near Bold community center in Lac la Biche, Alta., south of Fort McMurray. Staffing agencies are looking for workers to help rebuild the northern Alberta city. (Photo: Amru Salahuddien/Anadolu Agency/Getty Images)
Vruno said she heard over 800 people responded to the callout for 500 applicants.
"I'm really hoping I'm one of them who gets picked and help clean up Fort McMurray, and rebuild their town."
"Everyone is really emotional about this."
The company posted a statement to its website saying thousands of applications are being reviewed and that resumes will no longer be accepted from the general public.
Fort McMurray residents are still welcome to apply.
"We're hoping some of the evacuees will be at the top of our list if they would like to go back. Everybody is really emotional about this," Beatrice Floch of Spirit Staffing and Consulting told CBC News.
Drake International, an HR and recruiting company, was also met with an overwhelming response to its posting looking for 200 workers for cleanup efforts.
"We actually had to take the post down about 3 o'clock in the afternoon on Friday because we had over 2,500 resumes in less than 24 hours," Edmonton branch manager Leanne Bourbonnais told Global News.
Fort McMurray evacuees sit outside of bungalows in the Canada North Camps lodge in Wandering River, Alta. Wildfires forced more than 88,000 people to evacuate from the oilsands hub. (Photo: EPA)
But those eager to get home will have to wait.
Alberta Premier Rachel Notley said Tuesday it could be weeks before Fort McMurray residents are allowed to return to the city.
With files from The Canadian Press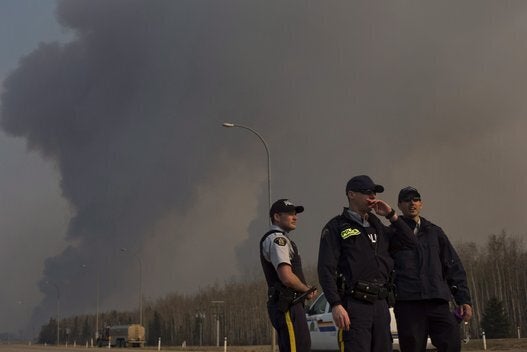 Fort McMurray Wildfire (May 2016)
Popular in the Community