Fort McMurray residents have lost so much over the past two weeks after an inferno destroyed houses in the northern Alberta city. But there is one thing that was left intact — people's sharp sense of humour.
One evacuee decided to jokingly post a "For Sale" ad for property he had lost in the blaze.
For $1, bargain hunters can pick up a 2013 all-terrain vehicle (ATV), the post read.
There's just one catch — a photo shows the ATV burnt to a crisp, with just the frame still standing.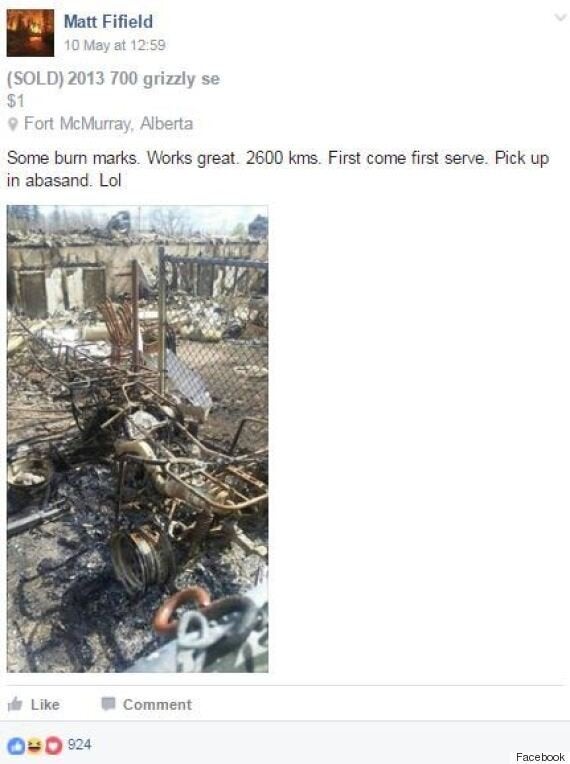 A Fort McMurray evacuee shared this hilarious "For Sale" post on social media. (Photo: Facebook)
The wildfire is still burning out of control, and has grown to over 2,400 square kilometres. For hundreds of evacuees who had lost their homes and possessions, Fifield's joke opened an opportunity for some much-needed laughter.
"I think it's stolen, it looks hot," wrote one commenter.
"The frame looks solid, you should ask for more," added another.
A few followed Fifield's lead, sharing photos of a burned jeep, motorcycles, a trailer and a dealership.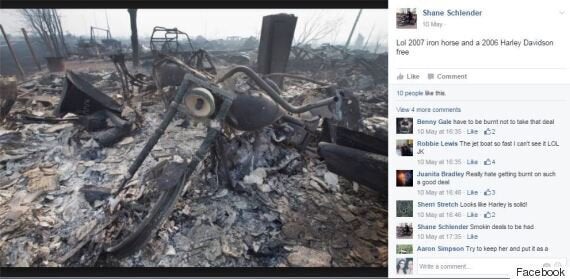 This motorcycle is a "smokin' deal." (Photo: Facebook)
"Props to everyone being able to laugh at a time like this. We all need some more of that," commented one group member.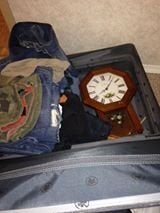 Things Packed By Fort McMurray Evacuees