As an out-of-control wildfire continues grow in Fort McMurray, a few voices have already taken the opportunity to use the situation for personal or political gain.
As 88,000 evacuees scrambled to gather their belongings and flee the northern Alberta city, some took to Twitter to blame province's oil industry and its role in climate change.
He hashtagged the tweet "#FeelTheBern" — a reference to progressive U.S. presidential candidate Bernie Sanders, an outspoken detractor of the oilsands.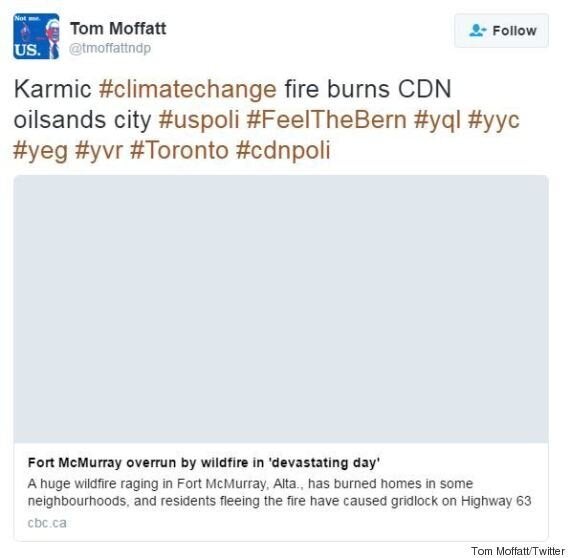 Screengrab of Moffat's tweet.
The tweet, which has since been deleted, triggered hundreds of angry responses.
"Shame on you. Your thoughts and prayers should be with the people. Don't make this about politics," tweeted one woman.
Some, who have either deleted or made their posts private since, called the situation ironic.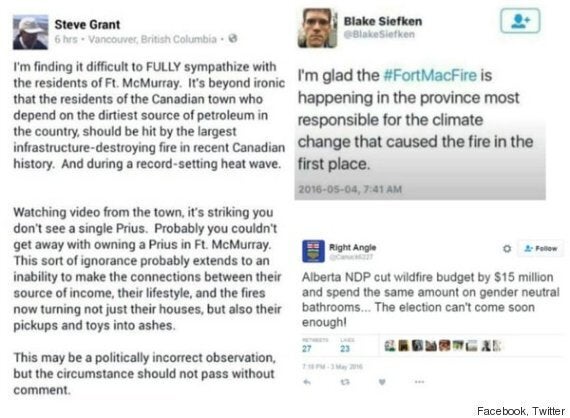 One Twitter user said he was "glad" the fire was happening in Alberta before apologizing for his remark later. His employer later confirmed on Facebook that he has been suspended without pay, and his salary will be donated to the Red Cross instead.
Others, while not directly laying blame, were quick to point to climate change as the fire's cause — a controversial statement given the province's economic reliance on its oil industry.
Prime Minister Justin Trudeau was more cautious and warned against laying blame for the disaster.
"Pointing at any one incident and saying, 'Well this is because of that,' is neither helpful nor entirely accurate," he said, according to CBC News.
"What we are focused on right now on is giving the people of Fort McMurray, and across Alberta, the kind of support that they need."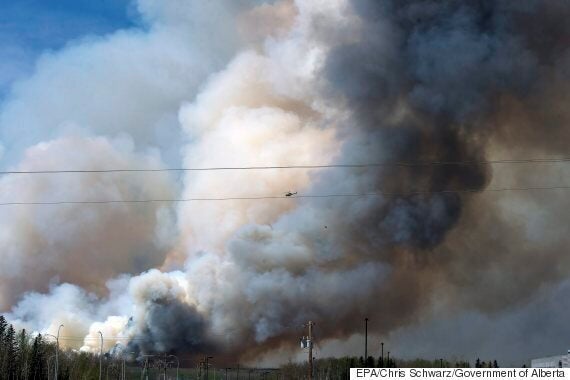 A helicopter flies over a massive plume of smoke above Fort McMurray, Alta. (Photo: EPA/Chris Schwarz/Government of Alberta)
"Karmic" suggestions aside, researchers still don't know what caused the Fort McMurray blaze.
Another researcher noted that wildfires are complex, and pointed to a number of conditions — including a dry winter and lack of green vegetation— may been contributing factors.
Regardless of what caused the disaster, Fort McMurray residents are suffering, having lost homes, pets and belongings to the blaze. Many Canadians have been quick to step up instead of choosing to lay accusations.
The Canadian Red Cross announced Thursday that $11 million had already been raised for Alberta fire relief.
Here are some resources for Fort McMurray evacuees: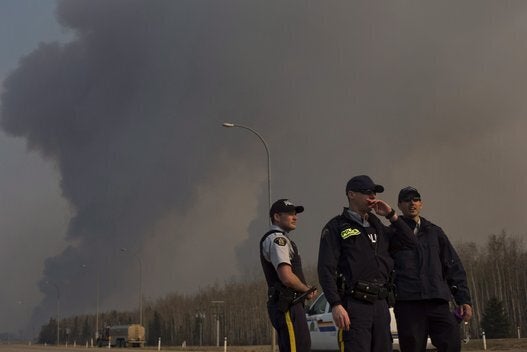 Fort McMurray Wildfire (May 2016)