The entire city of Fort McMurray, Alta. is under a mandatory evacuation order as an out-of-control wildfire rips through the area.
On Tuesday afternoon, Alberta Premier Rachel Notley said it's the largest fire evacuation in provincial history.
The main highway connecting the city of more than 60,000 people was clogged with evacuees as the fire that began Sunday roared into the city's downtown.
Flames have destroyed homes as well as a trailer park. Drivers have been asked to avoid travelling to Fort McMurray on Highway 63 or Highway 881 as heavy smoke engulfs the area.
Police officers with breathing masks were trying to help direct traffic, reported the Edmonton Journal, as hundreds of vehicles overwhelmed by smoke or empty gas tanks sat on the road.
Earlier in the day, mandatory evacuation orders were in effect for 10 neighbourhoods in the area, while people in others had been told to be ready to leave on 30 minutes' notice.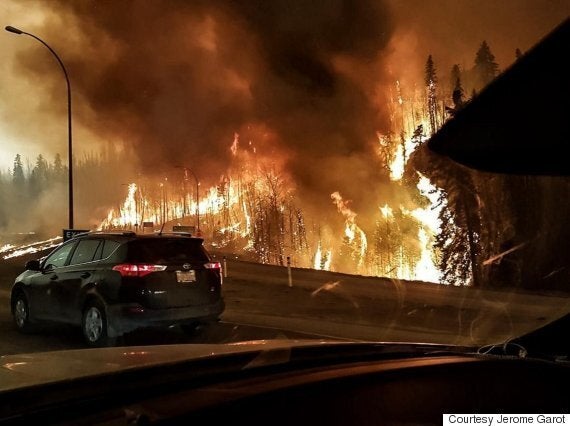 People evacuate the Syncrude Site area near Fort McMurray on Tuesday. (Photo courtesy Jerome Garot)
Albertans quickly used social media to offer up their homes, food, and water for evacuees who don't know if they'll have a place to return to. Brian Jean, leader of the Wildrose Party and MLA for the area, told media that he got news his own home was burned in the inferno.
The northern edge of the fire grew extremely quickly and had blocked Highway 63 at MacKenzie Boulevard on the southern end of the city, according to an Alberta Emergency Alert.
"We know that the fire has grown," said Regional Municipality of Wood Buffalo Mayor Melissa Blake in a press conference Tuesday morning. "We are a community that is surrounded by boreal forest and we have got tremendous dryness in our environment right now."
The premier updated the media about the situation on Tuesday afternoon.
"I want to thank the emergency service workers who are working in a very dedicated way under difficult circumstances right now," she said, adding that she plans visit to Fort McMurray on Wednesday if conditions improve.
Notley noted that the Fort McMurray fire is bigger than the 2011 inferno in Slave Lake that prompted the evacuation of 9,000 people.
"All Albertans are watching this. All Albertans are with the people of Fort McMurray, and I think it's safe to say that most Canadians are as well. Our hearts are with you."
Prime Minister Justin Trudeau took to Twitter to ask that residents follow evacuation orders and "stay safe."
Follow The Canadian Press live blog on the developing situation: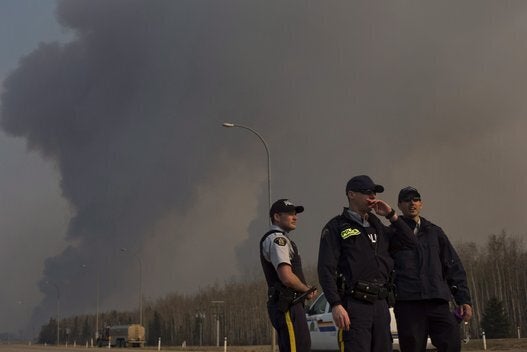 Fort McMurray Wildfire (May 2016)