After being welcomed to Canada with open arms, Syrian refugees in Calgary are now giving back to their neighbours up north.
On Wednesday, refugee Naser Nader spurred hundreds to action when he wrote on Facebook about his wish to repay Canadians by helping those affected by the blaze.
Sam Nammoura, co-founder of the support group, said he was amazed when the newcomers first came to him with the idea.
"Syria has a long history of being very generous," Nammoura told The Huffington Post Alberta. "Those newcomers who just came two, three months ago ... five dollars to them is just a huge amount of dollars. I was so proud. It brought tears to my eyes, it brought joy to my heart.
"I'm so proud of them, I'm so happy."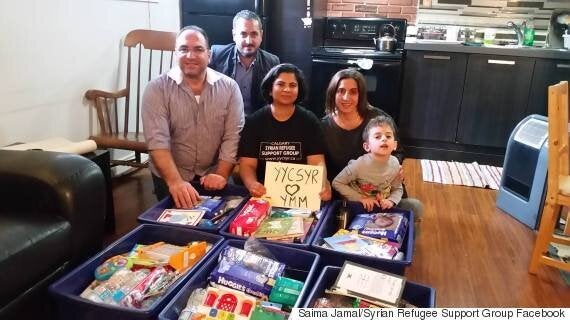 Saima Jamal, another co-founder of the group, told The Calgary Herald she was amazed by their generosity.
"You have to understand how little these guys have…But they understand the idea of an entire city losing their home. That's something they can easily relate to. They went through that."
Jamal says Nader's post changed the minds of those previously against welcoming refugees to Canada.
"They are now seeing firsthand that they are people with humanity just like the rest of us, and they want to help in anyway they can, too," she told Metro News.
"The newcomers, because they feel so grateful for the generosity of Canadians, Calgarians ... they want to help," Nammoura added. "They want to say thank you. They want to do something.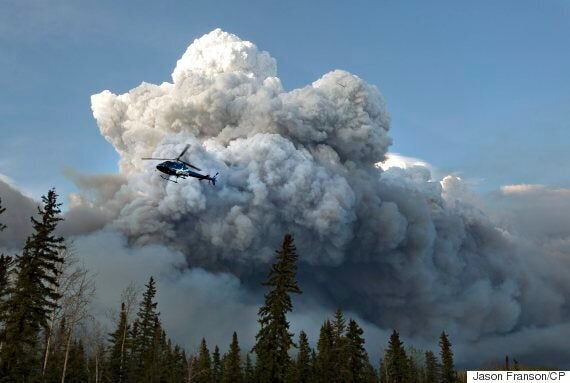 A helicopter flies in front of a plume of smoke above Fort McMurray (Photo: Jason Franson/CP)
Some Syrian refugees are also among those fleeing the out-of-control blaze in Fort McMurray.
Fahed Labek escaped the city two days ago, along with his mother, sister, brother-in-law and their two children.
His family only just arrived from Syria in February.
Labek told The Canadian Press he's concerned the refugees are enduring further trauma after leaving the Middle East.
Amany Darwish, president of The Canadian True Power organization in Fort McMurray, says she believes six families of Syrian refugees safely fled the destruction in Fort McMurray.
With files from The Canadian Press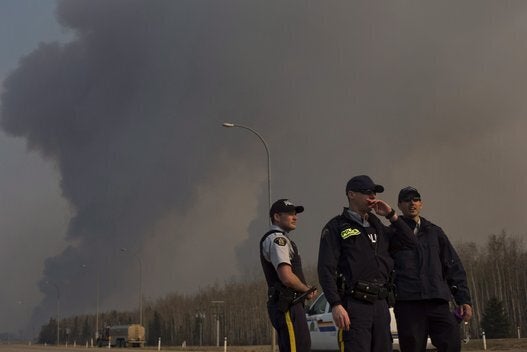 Fort McMurray Wildfire (May 2016)