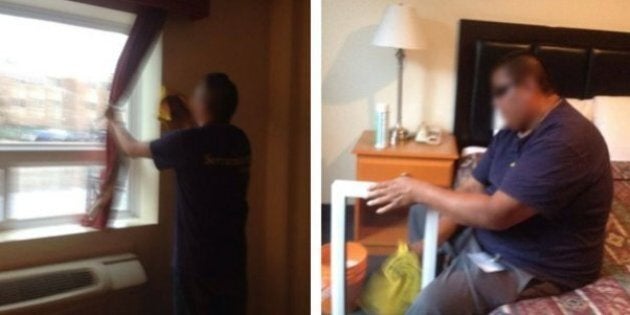 Dave Gallop wanted to help Fort McMurray, Alta., recover from the massive wildfire that swept through the city last month. But he didn't think it would jeopardize his health.
The B.C. resident took a job with ServiceMaster Restore at the beginning of June to help clean up homes in the city.
He told The Huffington Post Alberta employees were given no information or warnings about health risks related to cleaning rooms coated in a layer of potentially toxic ash.
"My lungs are in rough shape — still ash making its way out," Gallop said. He added that the company failed to provide proper safety equipment.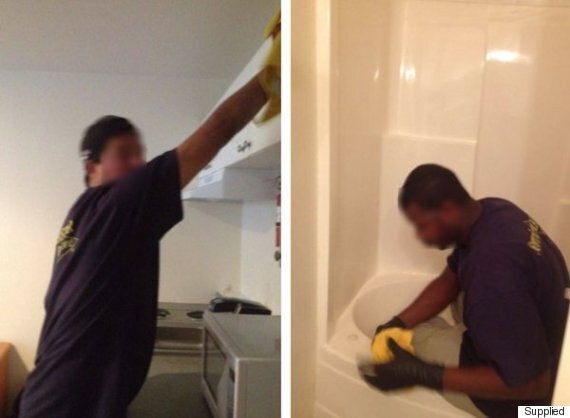 Two men in ServiceMaster T-Shirts clean Fort McMurray buildings without safety gear. Their faces have been blurred to protect their identity. (Photo: Supplied)
"I keep wiping brown residue out of my nose, seems to build up a few times over the day. My palms are constantly clammy and sweating.
"I feel tired all the time, dried out."
After doing some research, Gallop became worried about the possible health dangers in Fort McMurray. But when he brought his concerns up with his superiors, it didn't go over well.
The provincial government has acknowledged that some Fort McMurray buildings may contain asbestos and other toxic materials, advising workers dealing with ash should have respirators, eye protection and no exposed skin.
'You can leave if you don't like it.'
He claimed his employers refused to discuss the issue any further and told him, "'You can leave if you don't like it.'"
"I did not stop telling them it was wrong and that people could die in future from what was happening," he said.
"My lungs are in rough shape — still ash making its way out."
After arguing with his employers, he was let go. He was never given any specific reason for being fired.
HuffPost Alberta has reached out to ServiceMaster Restore for comment.
Right to refuse risky work
The Alberta government released a statement Tuesday, reiterating that all occupational health and safety legislation (OHS) continue to apply during Fort McMurray rebuilding efforts.
The province said workers can refuse work that could pose an "imminent danger".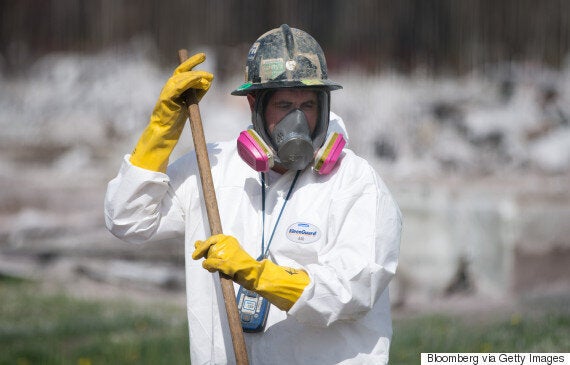 A worker wears full protective gear while cleaning up debris from around storm drains in front of destroyed homes in Fort McMurray. (Photo: Darryl Dyck/Bloomberg via Getty)
Gallop said he wished he had been given more information before taking the position. He accused the company of putting profits over people.
"I still would have taken the job if I knew the health risks, and I knew that I was properly protected, and that the project was managed by competent people, not a rush job driven by pure greed," he said. But he acknowledged his own fault in how things transpired.
"I did no research before leaving and I know nothing about the work, so I trusted these people's directions entirely — at first."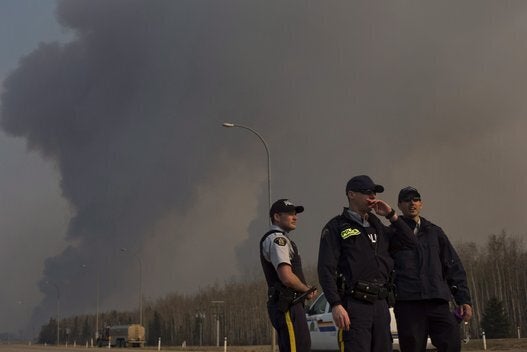 Fort McMurray Wildfire (May 2016)