In the span of less than a year, nine cities have filed lawsuits to get greenhouse gas emitting companies to pay for the damage caused by climate change. Divestment movements happen in three waves (as evidenced by the tobacco and weapons divestments of decades past), so the high-profile divestments we're reading about lately, involving churches, universities and public institutions, signal the second wave is underway for fossil fuels.
Combined with increased stranded asset risk (the risk that assets will become liabilities as the world transitions to a low-carbon economy), investors are citing not only environmental concerns, but a strong business case for divesting from fossil fuels.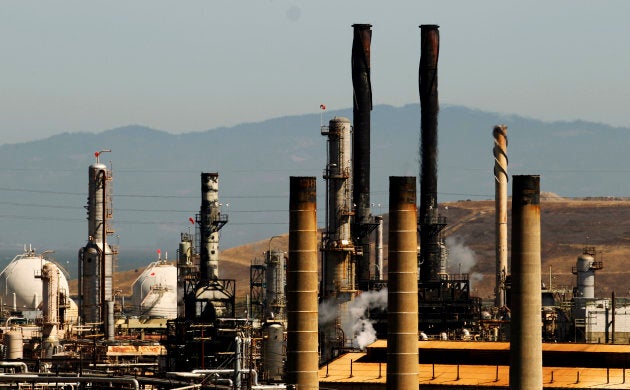 The latest of these cities, Richmond, Cali., is uniquely vulnerable, as it's surrounded on three sides by water and is one of the poorest communities in the Bay Area. The suburb of San Francisco is the ninth U.S. city to sue a major oil company over climate change, arguing that because oil companies (the Chevron refinery is the city's largest employer) have known for decades they were speeding up the effects of climate change, they ought to foot the bill for its related costs.
In the absence of meaningful targets to mitigate the effects of climate change (like the Paris Agreement), cities are beginning to take matters into their own hands. By bringing legal action against greenhouse-gas emitters, they're effectively joining forces with a global community of churches and universities that have already announced their intentions to divest from fossil fuels. Richmond and the other eight American cities (one of which is New York City) are only the tip of the (melting) iceberg.
New York City, arguably the most powerful player in the fight to date, acknowledges that though lawsuits of this nature will likely take years to come to fruition, their increasing prevalence sends a message. Mayor Bill de Blasio likens them to those levelled against tobacco companies decades ago, which were also considered longshots in their day. In addition to naming five big oil companies in its lawsuit, NYC is also divesting its $5-billion pension fund from fossil fuels.
Climate-change related costs for cities are skyrocketing (Metro Vancouver could spend up to $9.5 billion by the year 2100, Miami up to $990 billion), pressure is mounting for governments to take concrete action on climate change, and new institutions are divesting each week, making the risk of stranded fossil fuel assets more acute. It's unclear how the litigation will play out, but look for the divestment movement to continue gaining both allies and momentum.