OTTAWA — Conservative political commentators in the U.S. and U.K. are apoplectic over one word Prime Minister Justin Trudeau used in correcting a woman during an Edmonton town hall.
British journalist and TV personality Piers Morgan held nothing back in a column Tuesday, as he blasted Trudeau for using "peoplekind" to correct the woman's use of "mankind" in a question to the PM.
We like to say 'peoplekind,' not necessarily 'mankind' because it's more inclusive.Prime Minister Justin Trudeau
"In the new wave of modern feminism, the list of contenders for the coveted title of Chief PC Plonker is long and distinguished," wrote Morgan in the Daily Mail.
"But now a clear winner has emerged in the form of Trudeau, the handsome young politician publicly drooled over by many of the same women who claim to find male objectification of female flesh so demeaning."
During the Feb. 1 town hall at MacEwan University, a woman asked Trudeau about funding for volunteer programs at religious charitable organizations.
After she lauded the government's gender-balanced cabinet, she asked the prime minister to review legislation concerning the groups "because maternal love is the love that's going to change the future of mankind" — but then, Trudeau interrupted her.
Waving his hand to get the young woman's attention, Trudeau corrected her word choice: "We like to say 'peoplekind,' not necessarily 'mankind' because it's more inclusive."
Satisfied that the PM understood her point about moving away from patriarchal systems, the woman responded, "There you go, exactly. Yes. Thank you."
Trudeau's "peoplekind" remark fuelled part of a segment on Fox News that was already featuring University of Toronto psychology professor Jordan Peterson.
He discussed his own refusal to use gender-neutral pronouns "mandated by law," telling "Fox & Friends" co-host Steve Doocy he didn't want to hear himself use the same words as "radical, leftists propagandists."
Peterson vaguely suggested the widespread use of gender-neutral pronouns will cost Canada "in ways we can't yet imagine."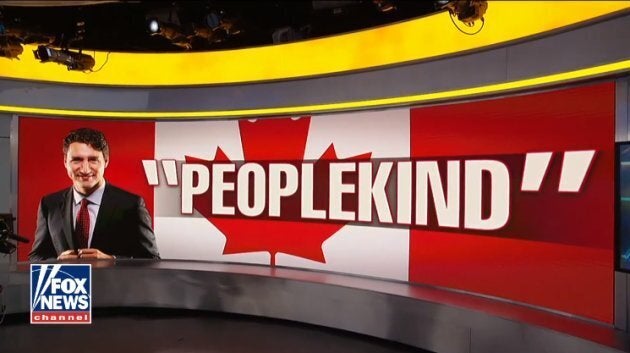 Co-host Brian Kilmeade followed up on Peterson's fear-mongering and wondered aloud if Trudeau's word correction will bring down free speech.
"Well, we're gonna find out because you believe it's coming to us, here in America, and you've been in both countries frequently," Kilmeade said.
The prime minister's office had no comment on the Fox News segment or Piers Morgan's column. When asked to respond to Conservative MP Lisa Raitt's tongue-in-cheek riff in question period asking Trudeau to "person up," the PMO also declined to comment.
"As you know, the Prime Minister is a proud feminist, and our government's policies reflect our commitments to equality," spokesperson Cameron Ahmad said in an email.