A Catholic priest has been condemned by many after he posted a video with an aborted fetus in support of Donald Trump — even by those from his own faith.
Rev. Frank Pavone, a prominent pro-life activist, appeared in a Facebook Live video on Sunday behind an altar with the fetus lying on it in front of him.
"Today I am doing something rather extraordinary," he says.
"Because here before me lies a baby, killed by abortion in the second trimester of pregnancy."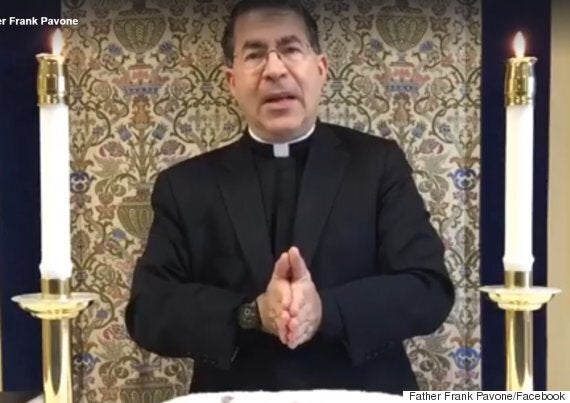 Rev. Frank Pavone sits behind an altar with an aborted fetus (out of frame) lying on it in a video meant to drum up support for Donald Trump. (Photo: Father Frank Pavone/Facebook)
"Hillary Clinton and the Democratic platform says yes, let the child-killing continue (and you pay for it); Donald Trump and the Republican platform says no, the child should be protected," he wrote in the description for the video.
Trump said in April that he thinks abortion should be outlawed except in situations of rape, incest or if the mother's life is in danger. He said during a debate last month that if elected president and allowed to appoint Supreme Court justices, he would pick those who would overturn a woman's right to abortion.
Clinton is pro-choice and has said wants to make sure abortions are safe and legal.
"I am here to present to you the fact that we have a very simple choice: to elect those who are going to affirm the covenant we have with God, or those who reject it," says Pavone in the video.
He later apologized in another video on Tuesday to anyone he offended, but said he knew involving the aborted fetus would cause a stir. The video has since been removed.
"I want to thank first of all all my friends, colleagues, supporters who have thanked me for exposing the truth about abortion, for exposing the truth about what the Democrats and Hillary Clinton stand for when it comes to abortion."
He has received both support and criticism on Facebook, but the most notable messages of disapproval came from Catholic leaders and writers.
"A priest of the Catholic Church publicly displayed on a sacred altar a dead baby who was the victim of a terrible crime as part of a propaganda video in favor of a political candidate," wrote Ed Mechmann, the director of public policy for the Archdiocese of New York, in a post on its website.
What Fr. Pavone did is the opposite of pro-life."
"It is hard for me to express in calm, measured terms, the revulsion I feel about this."
Others said the priest violated the fetus' dignity.
"The Catholic Church is very strict that human bodies are to be treated reverently after a person dies," Rev. Thomas Petri, vice president and academic dean of the Pontifical Faculty of the Immaculate Conception in Washington, D.C, told the Catholic News Agency.
Blogger Scott Eric Alt said Pavone should have his ability to celebrate Mass suspended, saying what he did was a "sacrilege."
"More than that, what Fr. Pavone did is the opposite of pro-life."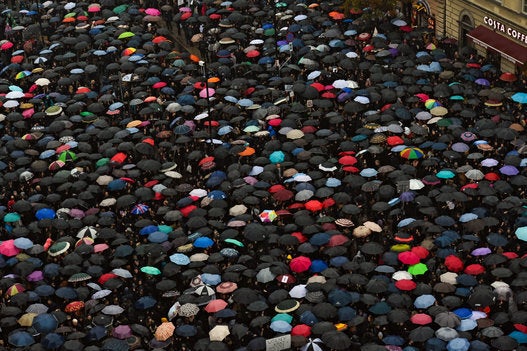 23 Empowering Images From Poland's Huge Abortion Rights Protest
Popular in the Community