A cold concrete floor in solitary confinement; No furniture, no bed, no neighbours -- except for an infestation of cockroaches. And, of course, that label: terrorist.
Not for murder, or theft, or even political dissidence; these are the rewards one gets for practicing journalism in Egypt.
These rewards have been bestowed on Al Jazeera English producer Mohammed Fahmy, an Egyptian-born Canadian citizen, Australian correspondent Peter Greste, and Egyptian producer Bader Mohammed. Since December 29 they've been detained in brutal, solitary conditions at "Scorpion Prison," a rat-infested jail where the Egyptian government sends those charged with terrorist offences.
These journalists are guilty only of doing their job and reporting honestly. When police raided their hotel room they had no weapons, no illegal equipment, nothing but the laptops, hard drives and camera equipment any group of journalists would need to carry out their work. That didn't stop the Egyptian government from turning a tape of the raid into a ridiculous piece of propaganda, with an ominous score swelling over shots of the terrified crew and their typical journalistic equipment.
Why was this crew targeted? They had interviewed members of the Muslim Brotherhood, which the current Egyptian regime has declared a terrorist organization. Despite recently adopting a liberal constitution that, on the surface, appears to protect free expression, that same regime has also passed a law labeling anyone who so much as quotes, reports on, or even meets a member of the Brotherhood as a terrorist.
In other words, journalism is now considered terrorism in Egypt.
There is a growing public outcry against this situation, and an increasing demand in the world community to release the jailed journalists. The Australian government has been lobbying aggressively to free Greste, the White House has denounced the Egypt's actions. But, despite assurances that consular officials are doing all they can, the Canadian government has remained notably silent.
Fahmy is an Egyptian-born Canadian citizen. He's a graduate of Vancouver's City University and Lasalle College in Montreal, and considers Place Du Fort home. He's a huge Canadiens fan and still returns home frequently when he isn't in the field.
Now, the award-winning journalist's home is a jail cell, where he's been forced to sleep on concrete in near freezing temperatures despite having a severe shoulder injury, for which he urgently requires (but has been denied) treatment. And the Canadian government has yet to publicly speak out on his behalf.
It's critical that Canada and the international community put pressure on Egypt, not just for Fahmy and his colleagues, but the whole of Egyptian democracy. There can be no freedom without a free press, but the government has so far charged 20 journalists, both Egyptian and foreign and from a variety of news outlets, with terrorism-related charges. Several foreign reporters have already fled the country.
Canadian Journalists for Free Expression is fighting for a restoration of justice and freedom in the country, and has helped launch a global campaign to demand the release of detained journalists and a global condemnation the Egyptian government's behaviour.
CJFE is calling on the Egyptian government to release Fahmy, Greste, Bader and Abdullah Elshamy, an Al Jazeera Arabic journalist who's been detained -- without charges -- for six months, drop charges against all of the other journalists, and repeal its overly broad, dictatorial laws restricting freedom of expression. We also call on the Canadian government to put more pressure on the Egyptian regime and publicly call for the release of Fahmy and his colleagues.
We've been trying the soft, silent approach since their arrest. It does not work. Now is the time to get loud.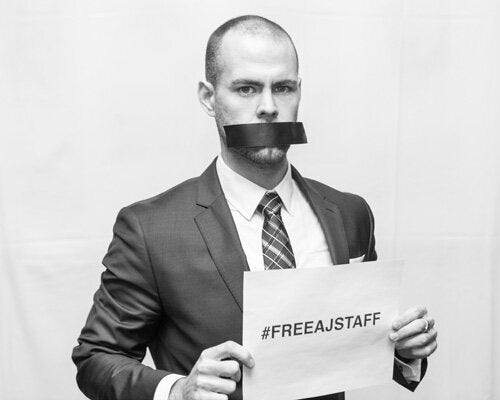 With that in mind, we ask that all Canadians add their voices by signing our petition and posting to social media with #freeajstaff.
Journalism is not terrorism. Please, join us in reminding the Egyptian government of this fact.